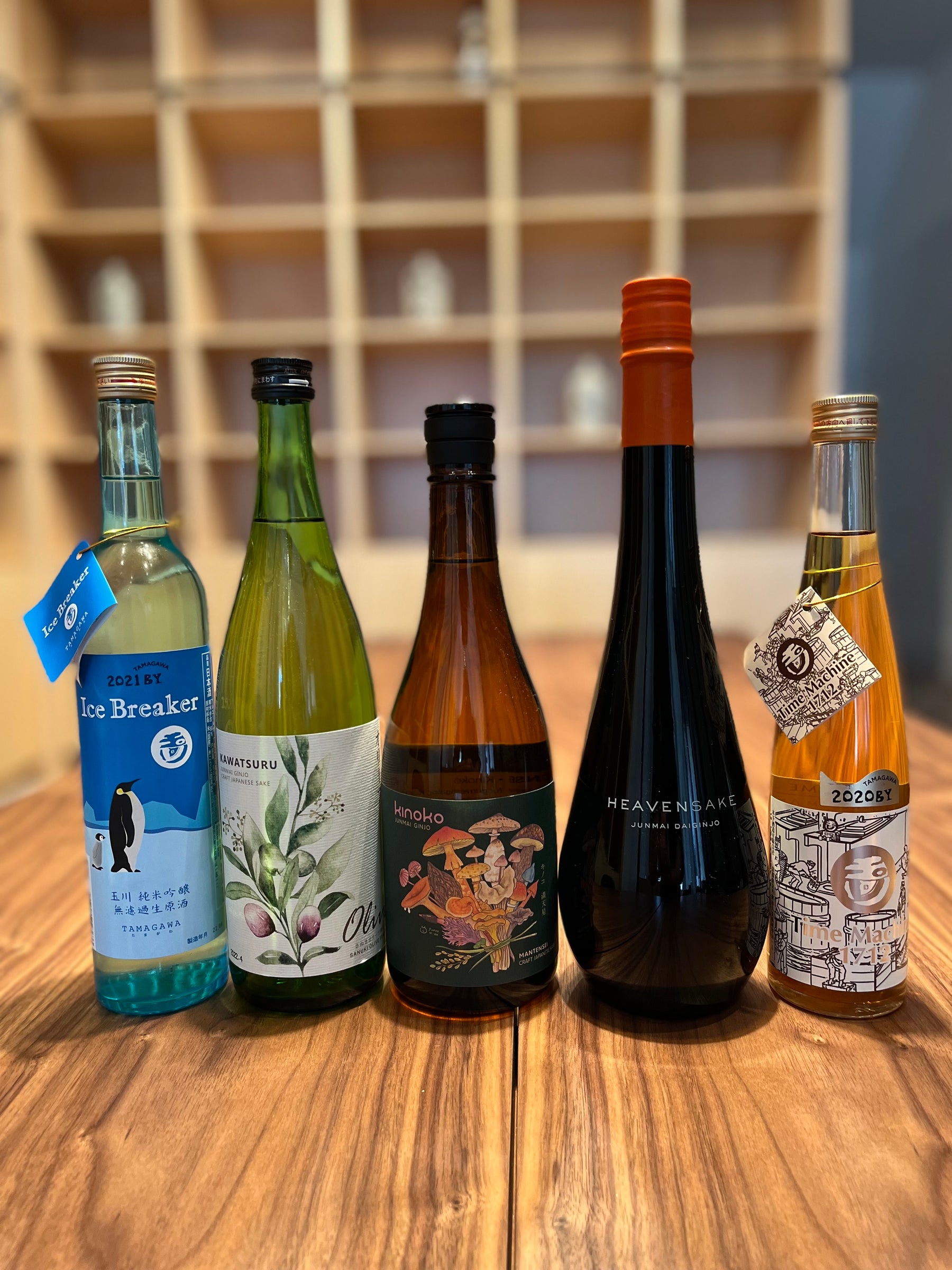 New Store Arrivals – Tamagawa x2, Kawatsuru, Mantensei, & HEAVEN
Tamagawa "Ice Breaker" 2022
From Kyoto Prefecture. Junmai Ginjo Muroka Nama Genshu SMV: N/A Acidity: N/A
The nose on this summer released Genshu is a cool collection of melon, sugar, mango, green apple, white cake, brown rice, and mineral aromas. Ice Breakers is one of those crowd-pleasing sakes that makes any meal or party better. Rich, round, and smooth it drinks fat and fleshy with a full-bodied attitude and a very fun flavor field. Look for rock sugar, nougat, sweet rice, mango, grape, apple, cake flavors with lots of umami and a white peppery finish. Made with Nihonbare rice and sporting an 18% alc content it is a big fresh unpasteurized sake that has lots of pop in a thick and chewy fluid that some say works with an ice cube or two on those hot summer days. This is a great sake to bring to a party or any type of restaurant, and True Sake is the only place that carries the 1.8L bottles which is like a magnum of fun. WORD: Fun WINE: Deep chewy reds/Fat whites BEER: Strong ales FOODS: The kitchen sink from International spice to anything off the grill and out of the ocean.
Kawatsuru "Olive"
From Kagawa Prefecture. Junmai Ginjo. SMV: N/A Acidity: N/A
The nose on this unique and tasty brew from Kagawa is a cool collection of grape, pear, melon, vanilla, chive, and peach aromas. The sake world continues to express itself in different techniques and ingredients. Made with an Olive Yeast (Kobo) this brew was built to showcase Kagawa in a bottle of sake. Some sake is made with flower yeast or fruit yeast, but this is a first for us. Does it taste like olives? Not really, rather it drinks smooth, round, fruity, and a little rich. Look for pear, peach, green apple, white grape, cotton candy, orange, apricot, grapefruit, and a touch of salinity with a tantalizing acidity play. It drinks both chewy and watery on the lighter and dryer side with a peppery finish. A unique concept sake that is drinkable and thinkable. WORD: Olive Yeast WINE: Fruity Reds/Dry Whites BEER: Herbal Ales FOODS: Sushi, sashimi, light fare, grilled fare, Yakitori, and olives.

Mantensei Kinoko
From Tottori Prefecture. Junmai Ginjo. SMV: N/A Acidity: N/A
The nose on this very unique "crafted" sake is a warm collection of chocolate, mushroom, cedar, earthy, musky, caramel, and savory aromas. This is a concept sake and built to work that way. The owner of this brewery loves mushrooms and he set about to make a shroom-centric brew that would pair well with anything fungi. Behold a smooth, round, and rich sake that surprisingly drinks incredibly light for all the savory and earthy flavors. It has a body, but it also has a glide that slips through the pallet ushering a smorgasbord of flavors such as dashi, cooked mushrooms, cinnamon, grilled lemon, mineral water, and powdered cocoa with a bucket full of umami and a mild burnt rice finish. Red wine drinkers would love this brew for the fresh acidity play, the gentle savoriness, and tannin-like dryness. If mushrooms are your thing in the kitchen then this brew screams pair me. WORD: Savory WINE: Deep Reds/Rich Whites BEER: Stouts FOODS: Mushroom-based anything, meats, game, pastas, grilled chicken, quail, and duck.
From Miyagi Prefecture. Junmai Daiginjo. SMV: N/A Acidity: N/A
The nose on Heaven's second JDG is a great collection of peach, lemon peel, cantaloupe, apple, apricot, and steamed rice aromas. User friendly is not a bad word, especially when a sake tastes professional but drinks recreationally. This is a very refreshing sake that has layers and layers of flavors on a very balanced and silky flow. Smooth, round, slick take note of the immediate citrus push that might mean why they made the cap orange in packaging. Look for grapefruit, blood orange, young apple, pear, peach, mango, and lemon candy flavors that tingle on a weighty fluid that has a light spritzy feeling with a zesty finish that echoes grapefruit. A super drinkable sake that is fun in feeling and flavor with a dash of smiles. WORD: Citrus WINE: Zesty Reds/Crisp Whites BEER: Citrus Ales FOODS: Champagne fare, sushi, sashimi, shellfish, oysters, lobster, and caviar.

Tamagawa "Time Machine"
From Kyoto Prefecture. Junmai. SMV: N/A Acidity: N/A
The nose on this recently reformulated historical sake is an enticing collection of mushroom, mochi, dried grass, cooked oranges, maple syrup, lemon honey, burnt wood, and whisky aromas. Philip Harper has taken an ancient sake recipe and put his own twist on the outcome by lowering the alc. content to 11% and by cleaning up the fluid a little bit to drink lighter and smoother. Round, soft, juicy, and slick this sake drinks lighter and more velvety than how it appears in the bottle. Far more drinkable than the previous incarnation, look for brown sugar, black sesame, crème brûlée, pralines, sweet potato, maple syrup, and earthy flavors on a lighter and silkier flow with a very quick finish for so much flavor. WORD: Safe Time Travel WINE: Rich Reds/Earthy Whites BEER: Belgian Ales FOODS: Smoked fish, meats, cheeses, rich pastas, steak, grilled chicken