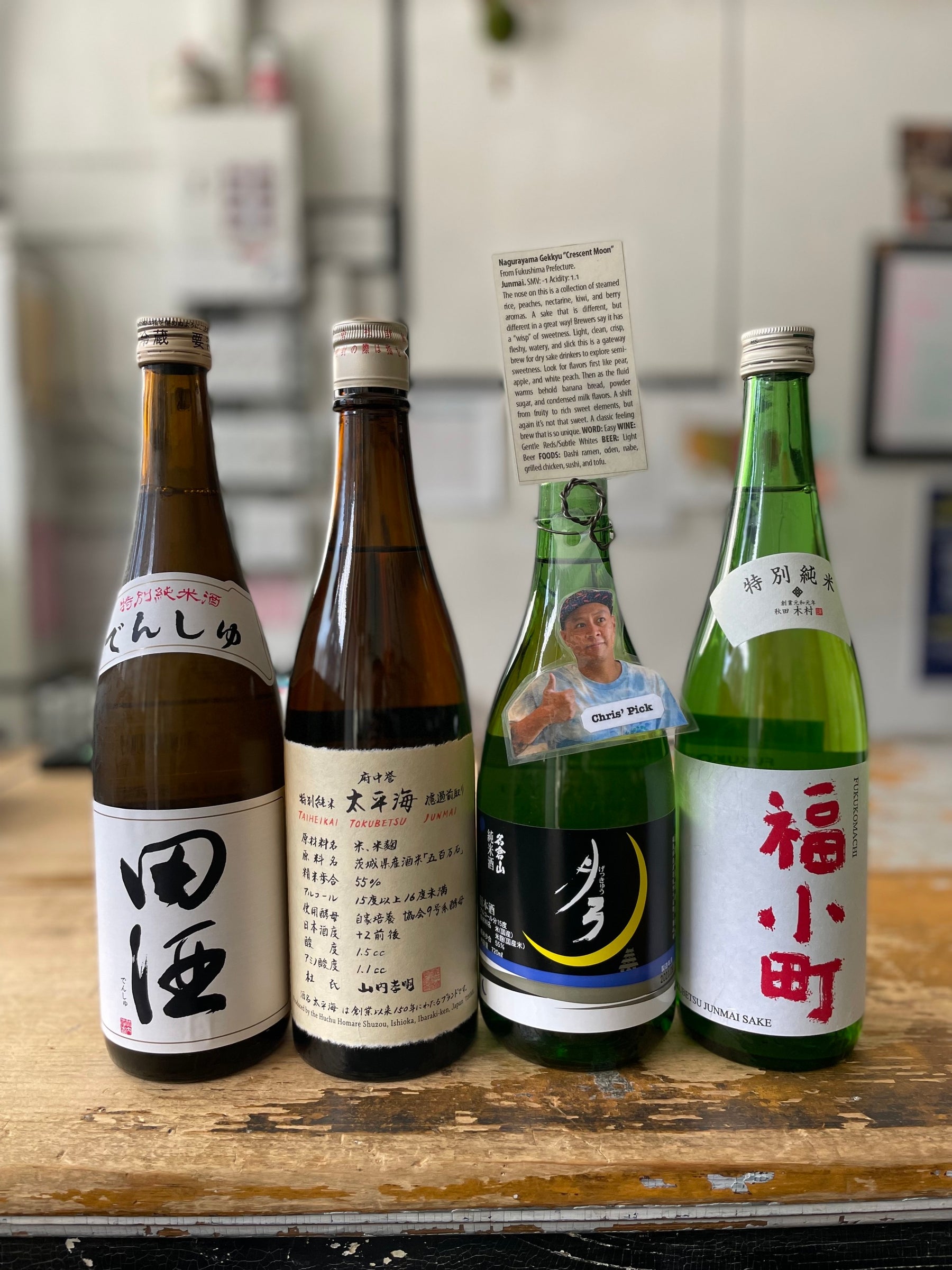 Sake "Thang" – Chris Cabrera Takes A Closer Look At Brews Milled to 55%
Greetings Sake Fans and Connoisseurs,
Chris here, your favorite "Assistant to the Sake Portfolio Manager", back with a new and different column for the newsletter. Beau san asked for another column from me, and I was happy to oblige. But what could I talk about? There's so much going on in my brain... I could do a True Sake mailbag section, which had an interesting email asking about non-alcoholic sake. OR! I could also talk about my favorite rice varietals, or my favorite sake prefecture, or my favorite sake/food pairing (the answer is tacos), etc. There were lots of possibilities, so I was pretty stumped. "The Paralysis of Choice", as they say. Then Beau san said, "What about Junmai55? It's a thang!"
Haha, you damn right it's a thing! Well, sorta.

I've been trying to make "Junmai55" a thing ever since I started my True Sake staff picks on our website. If you still aren't sure what a "Junmai55" could be, it's essentially a Junmai milled to 55 percent, but not called a Ginjo. So the brewer has gone out of their way to not call their Ginjo-milled sake a Ginjo. I can dig it! Tokubetsu OK! 
The first bottle I had that I really enjoyed that kicked off this Junmai55 vibe was
Fukukomachi Tokubetsu Junmai
 from Akita. This was a restaurant exclusive at first, but when the pandemic started, an importer reached out to True Sake and asked if we were willing to carry this sake to help out with lagging restaurant sales. The rest is history. I brought this to
Soba Ichi in Oakland
, and it paired beautifully with their entire menu. This sake is not too fruity, not too dry, but really clean and easy. Flavor notes of graham cracker, nougat, marshmallow, etc... flavors that customers don't typically ask for, but they should!
The second Junmai55 bottle I had was
Nishida Denshu
from Aomori prefecture. I'm kinda late to the game on this one, as the previous shop I worked at did not carry this bottle. Wow! How cool is this sake? So clean, so easy. Subtle vanilla notes, with a nice umami finish. This was the eye-opening "a-ha" moment for me which kick started this Junmai55 thing for me. The seeds were subliminally planted. I knew I loved Fukukomachi TJ and now Nishda Denshu, and what they had in common was Junmai55... very interesting. Did I mention that this bottle is made in small quantities? Of course it is.
The third bottle that really solidified this Junmai55 campaign was
Nagurayama Gekkyu "Crescent Moon"
from Fukushima prefecture. During our staff tasting, I really gravitated towards this. Crisp, clean, easy, but also a shapeshifter as the sake temp changed in the glass. "We need to carry this", was my initial thought. Why did I like this so much? I glanced at the stats and saw the semaibuai... 55%. Oh here we go. This IS a thing!
As I was getting ready to pen this column, I thought to myself, "Are there any other bottles out there that I've had a long time ago that fit into this new category?" Why yes, Taiheikai "Pacific Ocean" from Ibaraki prefecture. Milled to 55%, but labeled as a Tokubetsu Junmai instead of Junmai Ginjo. This is one of those no-brainer, easy-drinking, backyard-barbeque hang out sakes. Notes of pineapple all day, with a nice effervescence to start. I usually love to put this bottle in front of people that *think* they only like Daiginjos. This usually sparks a curiosity for other sakes that aren't Daiginjo. As T-Boz, Left Eye, and Chilli once said, "Don't go chasing Daiginjos, because you will miss out on gems."
I can't go on without an honorable mention, and that bottle is Kumaya Shuzo AN Tokubetsu Junmai Omachi from Okayama prefecture. I really wanted this to fall into the theme of Junmai55, but it's sadly milled to 60%. But that's OK, because the flavors and feelings are all there. A dry and herbal finish, with a smooth and easy feeling. Incredible stuff. Again at our staff tasting, I blurted out, "We need to carry this", as soon as I sipped this. I might have been the only one that loved this sake, and I might have been the one to sneak this into the portfolio.
At the end of the day, categories do help us figure out what we like and don't like. I get it. I totally get it. I personally note the trends in sake, and then go in the opposite direction. Everybody loves namazake, everybody loves Daiginjo, but do people really say out loud that they loved Junmai milled to 55%? Not yet, but you can make it a thing! No wait, we can make it a thing! Junmai55 all day everyday let's go!!

Chris
Assistant Store Manager + "Assistant to the Portfolio Manager"