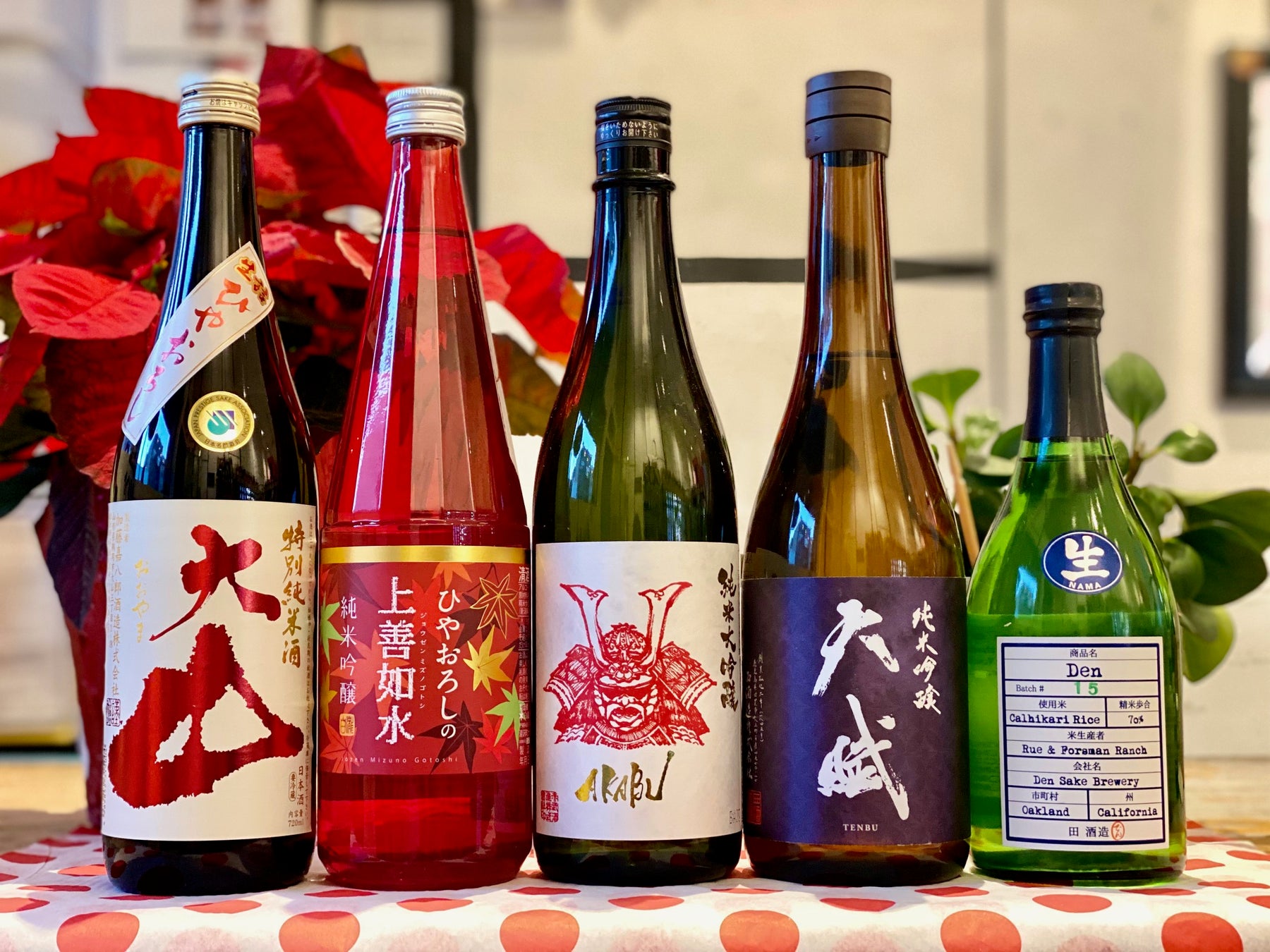 New Store Arrivals – Ohyama & Jozen Hiyaoroshi, Akabu, Tenbu, and DEN #15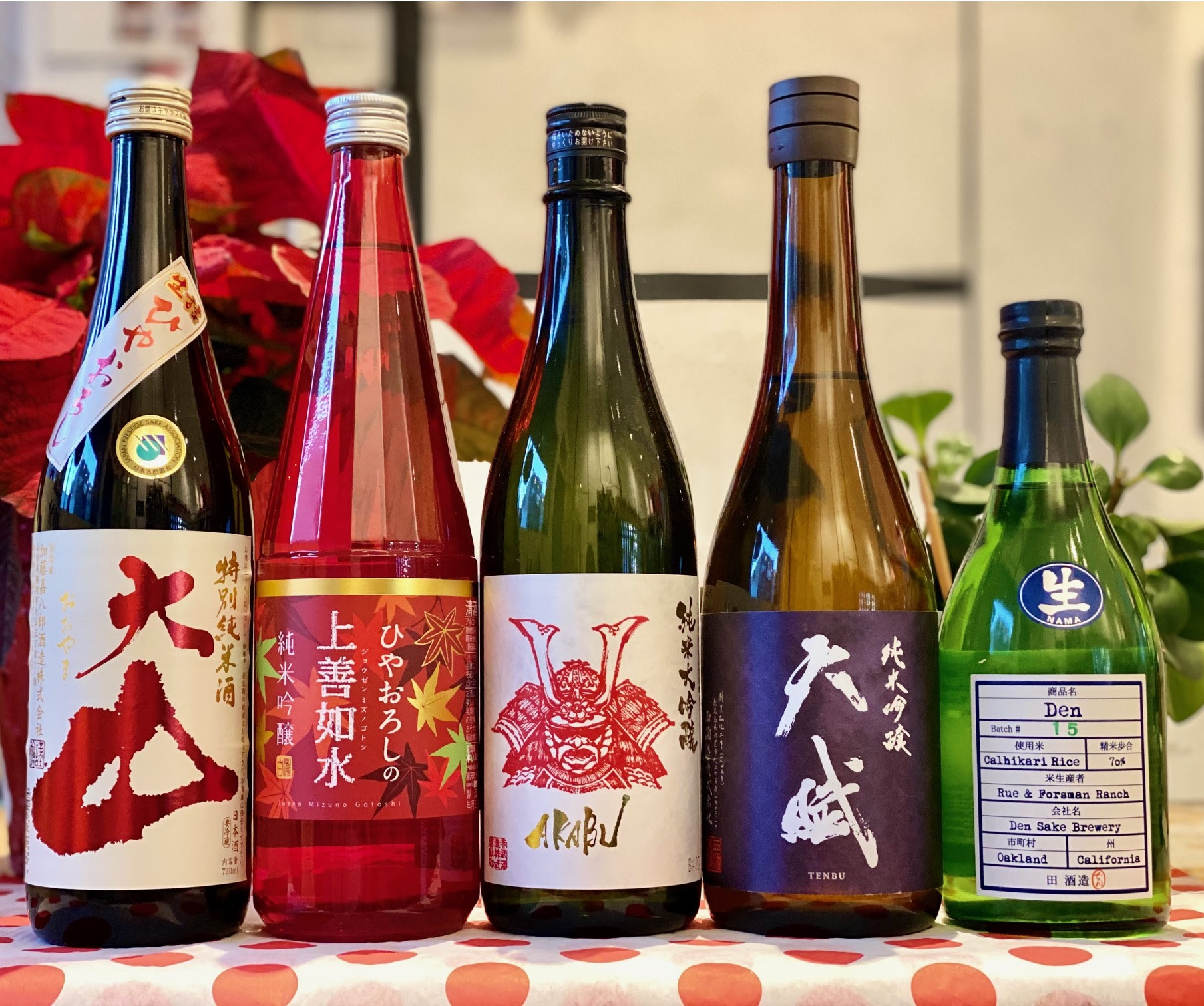 From Yamagata Prefecture. Tokubetsu Junmai Namazume. SMV: +0.5 Acidity: 1.8
The nose on this seasonally released single-pasteurized "Fall Draft" sake is a wonderful collection of melon, cream, strawberry, banana, orange, yuzu, and herbal aromas. A True Sake Team favorite, this fall this Hiyaoroshi is a really interesting brew that is juicy, smooth, and happy with a dancing acidity play that brings forth a lot of Fall smiles. Look for melon, citrus, lemon custard, sweet rice, and strawberry flavors with a fun herbal finish. Round, soft, and juicy there is a really cool slickness that makes the fluid glide through the palate, and there is a very noticeable umami push that is a great learning point for the umami challenged. WORD: Slippery WINE: Soft reds/Gentle whites BEER: Creamy Ales FOODS: Sushi, sashimi, crab, lobster, oysters, grilled fish, fruit plates.
From Niigata Prefecture. Junmai Ginjo Namazume. SMV: ± 0 Acidity: N/A
The nose on this seasonally released single pasteurized "Fall Draft" sake is a nice collection of pear, berry, honeydew, anise, mango, and apple pie aromas. Say hello to a full-bodied and lush Hiyaoroshi that is fruity, rich, smooth, and velvety. This is a voluptuous brew that has ripe pear, melon, persimmon, cake, almonds, anise, and cream flavors that flow on a big fat fluid. Juicy and layered this brew is a food pairing specialist, and when it's warmed black licorice fans will rejoice. The great thing about this brew is that it is very smooth and very flavorful, and isn't that what "Fall Draft" sake is all about? WORD: Voluptuous WINE: Fruity Reds/Fat Whites BEER: Creamy Ales FOODS: American Sushi, International spice, grilled meats and fowl, cheese and fruit plates.  
From Iwate Prefecture. Junmai Daiginjo. SMV: N/A Acidity: N/A
The nose on this delicious northern brew is a cool collection of grape, blueberry, green apple, kiwi, Asian pear, and sweet tomato aromas. Snap! This is one of "those kind" of sake. Those kind? Yes, the kind that you taste and a smile comes to your face and all you can say is delicious! It's delicious sake at its best. Why? There is a slippery water play that accompanies each sip full of flavor. So you get great flavors then there is this amazing watery glide that moves the brew through the palate. Juicy, bright, velvety, buoyant, lush, and gentle but with an expansiveness that is more like flavor whispers. Look for strawberry, grape, blueberry, candy apple, powder sugar, and rock candy flavors that float along each sip. It's fruity but not sweet. It's more along the lines of a confectionary sugar that drinks like your favorite candy without being too sweet. I'm smiling as I type this! WORD: Delicious WINE: Gentle Reds/Fruity Whites BEER: Sweet ales FOODS: Sushi, sashimi, crab, lobster, oysters, fruit and cheese plates.
From Kagoshima Prefecture. Junmai Ginjo. SMV: N/A Acidity: N/A
The nose on this sake made in a prefecture that is known for shochu is a very cool collection of melon, stone fruit, pineapple, tangerine, black licorice, and vanilla aromas. Spritzy, lively, bright, tingly, zesty, crisp, and refreshing this brew is extremely talkative in the glass. Look for apple, Asian pear, honeydew, watermelon, papaya, and herbal flavors with a minty and umami filled finish. What makes this Junmai Ginjo really cool is that you can taste the brewing technique that this brewery uses with lots of flavors upfront, a supremely quick finish, and an overall lightness and brightness that makes this sake drink so well. As the fluid warms in the glass more peach and citrus flavors emerge with a touch of earth tones on the finish. Pretty damn cool sake that uses local brewing rice milled to 50%, which makes this a Daiginjo for the price of a Ginjo. WORD: Refreshing WINE: Light Reds/Expressive whites BEER: Fruity Ales FOODS: Sushi, sashimi, shellfish, oysters, grilled chicken and fish. 
From Oakland, California. Junmai Nama. SMV: +4.0 Acidity: 2.6 
The nose on this largest batch to date is a terrific collection of grape, green apple, lime, sweet rice, melon, young banana, and grapefruit aromas. Smooth, round, and with a tingle tail this Batch is expressive, lively, and with lots of citrus notes. Look for green apple, grapefruit, young melon, Lemonheads, and vanilla flavors on a lively fluid that has a nice umami finish. A very expressive and food friendly Nama that is playful with an echo of tartness and a tingle of shibumi. If you want unpasteurized sake that is fresher than anything made in Japan, this living brew is for you! WORD: Lively WINE: Bright Reds/Crisp Whites BEER: Crisp Ales FOODS: Sushi, sashimi, Izakaya fare, salty, savory, spicy, fresh, and expressive.