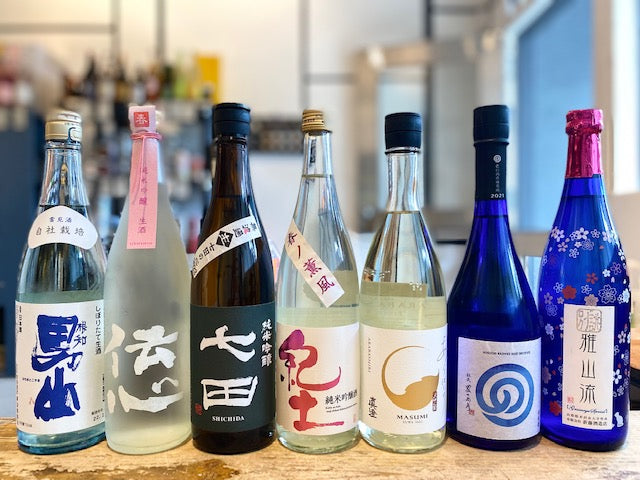 Nama Explosion – Another Nama Drop of Spring/Summer Brews
Nechi Otokoyama Yukimizake 2022
From Niigata Prefecture. Tokubetsu Honjozo Nama. SMV: +4 Acidity: 1.8 
The nose on this amazing seasonally released unpasteurized sake is a gentle collection of citrus, mineral water, cantaloupe, mint, and grapefruit aromas. Say hello to a superb Niigata-style Nama made by a brewer who grows all of his own "estate" rice. How does light but intense sound? Clean, crisp, minty, minerally, and cool this brew literally drinks like a spring, a liquid spring that starts tight and crisp then launches into a bright flavor field with a mineral tingly finish. Sounds lively right? Look for grape, snowmelt, peach, kiwi, powder sugar, and grapefruit flavors that drink bright and dry! This is exciting sake that is refreshing and awakens the senses with an 18%ABV and a very clean mouth feel. WORD: Clean WINE: Brisk Reds/Crisp Whites BEER: Crisp Ales FOODS: Shellfish, sushi, sashimi, oysters, caviar, citrus-based dishes and salads. 


From Fukui Prefecture. Junmai Ginjo Nama. SMV: N/A Acidity: N/A 
The nose on this beautifully packaged fan-favorite seasonally released Spring unpasteurized nama is a fun collection of grapefruit, strawberry, pear, blueberry, mineral, and floral aromas. Yay! It's nama season and this lively beast is like dipping your ladle into the sake tank as it ferments. A very brash, living, raw sake that is zesty, expressive, full-bodied and fruity. Look for melon, young pear, crisp apple, peach, nectarine, strawberry, blackberry, young mango, and citrus flavors with a touch of electric umami. If you like your sake to tell a story, this story is bright and very fresh sake that has a sit-up and take notice of the brashness that crisp sake drinkers love. WORD: Lively WINE: Beaujolais BEER: Zesty Ales FOODS: International spice, street foods, tacos to curries, fruit salads. 
From Saga Prefecture. Junmai Ginjo Muroka Nama. SMV: ±0  Acidity: 1.4 
The nose on this seasonally released unpasteurized nama is a bright collection of watermelon, plums, cereal, oatmeal, Champagne, hay, grape, melon, and tropical aromas. This is a Nama fan's nama! It's bright, crisp, lively, zesty, and it pops in the glass. We call it "vat fresh" because it drinks like you just drank out of the brewing tank. Living sake is pretty damn cool and this store favorite doesn't disappoint. Look for Asian pear, young melon, crisp apple, green grapes, peach, banana, and a kiss of umami on a peppery, juicy, and tingly flow that is full-bodied and delicious. If you can't go to the brewery let the brewery come to you in Nama form. Lively, quick, chippy, and totally fresh this brew is the epitome of seasonal. WORD: Bright WINE: Big Reds/Zesty Whites BEER: Stouts FOODS: International spice, street foods, beach fare, tacos, burgers, BBQ, and brats. 
Heiwa Shuzo KID Haru no Kunpu "Spring Breeze" 2022
From Wakayama Prefecture. Junmai Ginjo Nama. SMV: ±0 Acidity: 1.7
The nose on this "Spring Breeze" seasonally released unpasteurized sake is a special collection of rose water, strawberry, sugar, candied pear, plum, and floral aromas. Such a wonderful expression of sake that drinks like blossoms, Spring, and fun in a liquid form. It's another one of those "How can rice and water taste like this?" sake. Smooth, bright, fresh, and fun. It is juicy, fleshy, and extremely flavorful. Look for fuji apple, strawberry, cotton candy, mango, papaya, pineapple, and other fruit basket flavors. And to prove that this brew is balanced and well-made, it stays even and fruity as it warms in the glass. Gohyakumangoku semi-sweet magic in the glass with a cool mineral finish. WORD: Fruity WINE: Beaujolais/Fruity Whites BEER: Fruity Ales FOODS: Fresh seafood, salads, fruit plates, and international spice dishes. 
Masumi Arabashiri "First Run" 2022
From Nagano Prefecture. Junmai Ginjo Nama. SMV: -5 Acidity: 2.3
The nose on our longest selling seasonal sake is a brilliant collection of grapefruit, lemon cookie, tangerine, floral, and yeasty aromas. Masumi Arabashiri has a fan base like no other unpasteurized brew in the store; people love it! This year's version drinks like the past with a little more viscosity and a touch of sweetness. Tangy, crisp, zesty, juicy, fresh, lively, this sake drinks active in the glass with a frisky and fun attitude. Look for pomelo, honeydew, sweet rice, honeysuckle, ganache, white chocolate, grapefruit, and minerals that end in a crisp flinty finish. One of the top selling exported seasonal nama sake of all time and for good reason. Time to get your "First Run" on. WORD: Fresh WINE: Beaujolais BEER: Fruity Ales FOODS: International spice, western sushi, caviar, cheese plates, fruit plates, citrus based dishes. 
From Ishikawa Prefecture. Muroka Nama Genshu. SMV: N/A Acidity: N/A
The nose on this first time in the US summer nama is a floral collection of berries, sweet rice, mango, melon, pear, and a hint of cream aromas. Super clean but deep! Yes, this sake is the flavor of summer made by a guy who has seen a few in his day. Light and extremely drinkable, it is also baffling with elegant and "chill" complexity. This tricky sake is so easy to drink, you'll miss it. Or is there a vein of complexity that makes you say what? Either way look for Asian pear, mint, snow melt, persimmon, tomato water, sweet greens, and hints of lemon flavors on a tingly light flow that is clean and crisp. Made with Gohyakumangoku milled to 65% you'd think this brew would have more weight to it, but it is as light as sunlight reflecting on water. WORD: Summer WINE: Light Reds/Lighter Whites BEER: Light beer FOODS: Oysters, shellfish, caviar, grilled fish and chicken, sashimi. 
Gasanryu Usu-Sakura "Cherry Blossoms"
From Yamagata Prefecture. Junmai Ginjo Usu Nigori. SMV: +2 Acidity: 1.2 
The nose on this seasonally released sake is a lively collection of cherry, watermelon, pear, apple, grape, peach, and fruit yogurt aromas. Talk about a sake that drinks like it looks! This beautiful bottle contains a very summery and flavorful misty brew that is gentle, light, fresh, airy, and very balanced. Look for semi dry flavors of pear, apple cider, watermelon, blueberry, cherry, snowmelt, and a hint of cream with an easy and mineral finish. Made with Yamagata's famous Dewasansan rice varietal milled to 60% it drinks more like a ginjo than a "Usu" nigori sake. Fresh, fun, and very take-to-a-party centric.
WORD:
Light
WINE:
Light Reds/Fruity Whites
BEER:
Fruity ales
FOODS:
Casual sushi and sashimi, poolside fare, crab, lobster salad, fruit plates.