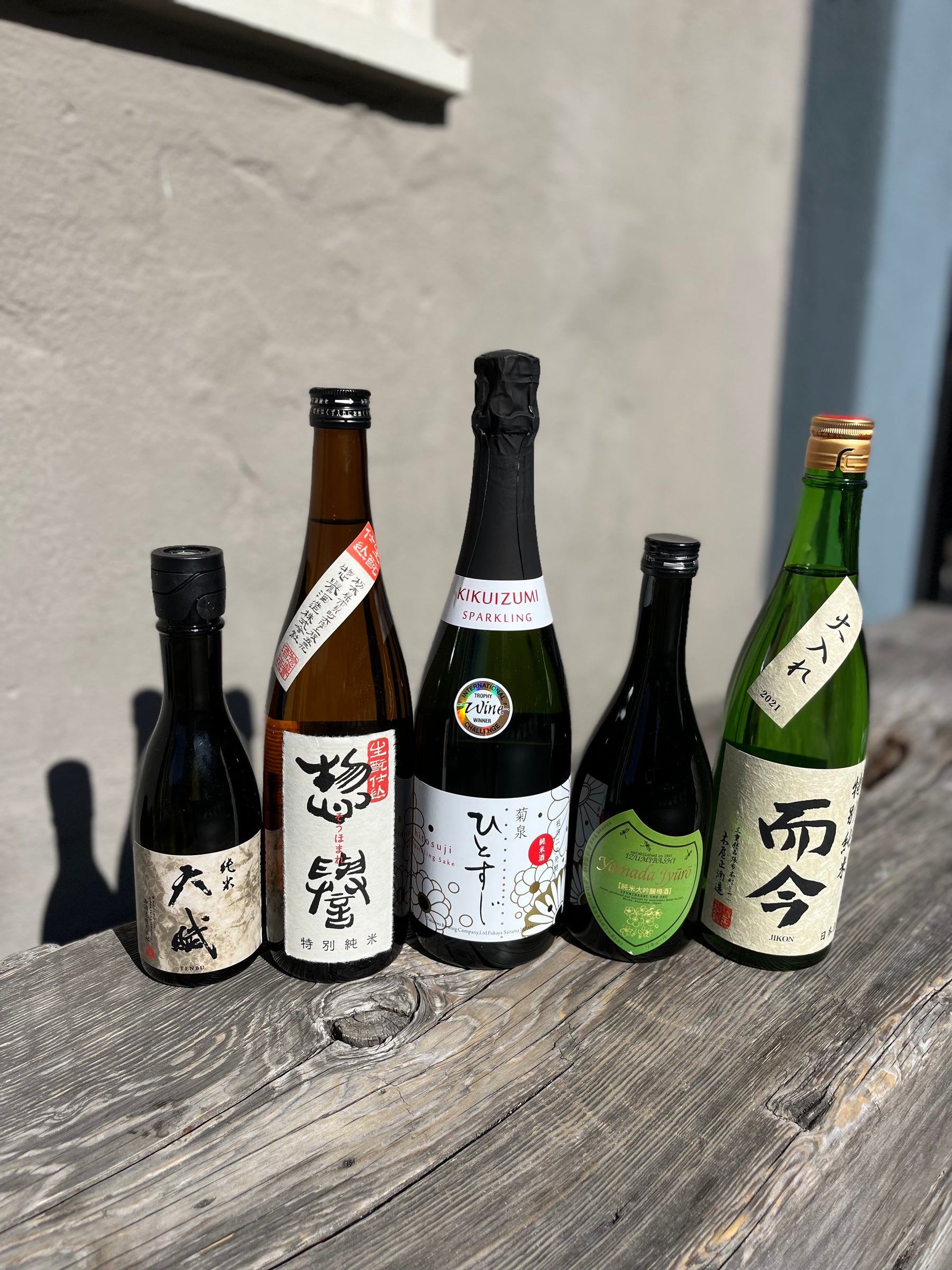 New Store Arrivals – Tenbu, Sohomare, Kikuizumi, Izumibashi, Jikon
From Kagoshima Prefecture. Junmai. SMV: N/A Acidity: N/A
The nose on this modern style Junmai is a mild collection of grape, mineral water, grains, and steamed rice aromas. Smooth, round, juicy, and soft this is a tremendously flavorful brew that feels great in the palate. Look for peach, grape popsicle, fleshy mango, papaya, raisin, cucumber, and pear flavors that drink semi-sweet but superbly balanced. Some sake just taste great, and this is one of those brews. Made by a relatively new sake brewer it is a good reflection of how the Junmai "Category" is broadening in many flavorful directions. WORD: Juicy WINE: Pinot Noir/Rich Chardonnay BEER: Belgian Ales FOODS: Izakaya fare, salty and savory, fried and grilled, and shellfish. 


From Tochigi Prefecture. Tokubetsu Junmai Kimoto. SMV: +5 Acidity: 1.8 
The nose on this traditionally made special brew is a gentle collection of toasted rice, wheat, nutty, earthy, cereal, vanilla, and lemon peel aromas. Right off the bat you can tell this is one of those "not to be missed" sakes that is built differently than your average Junmai sake. Chris calls it the "Un-kimoto" or "Elegant kimoto" that is made with the top graded Yamadanishiki from Hyogo, which is amazing in and of itself. The brewers also blend three different yeasts (#6,#7, & #1401) to make a sake that is ricey, earthy-lite, clean, dry, and well balanced. Look for cereal, roasted grains, steamed rice, and hints of lemon water flavors with loads of umami from start to finish. A classic sake that stays sake-flavored when paired with all foods. WORD: Elegant Kimoto WINE: Dry Reds/Crisp Whites BEER: Dry Ales FOODS: Yakitori all day long, Izakya fare. 
From Saitama Prefecture. Junmai Sparkling. SMV: 4.8 Acidity: N/A
The nose on this superb sparkling sake is a great collection of steamed rice, lemon peel, straw, ocean water, bread, and yeasty aromas. Stop the presses! Say hello to world class sparkling sake that is umami loaded, crisp, compact, and dry; very much like a Brut-style sparkling wine. Featuring a 12% ABV, this beauty drinks bright, layered, rich, and balanced with good bubble action and gentle hints of steamed rice, apple, green grape, pear, plum, cooked apple spice, and chocolate covered cherry flavors. To say this brew is just another sparkling sake is an understatement as it won the Trophy for the entire sparkling sake field at the 2019 International Wine Challenge. Great for gifting and great to have on just an ordinary evening when you want a little of the extraordinary! Use a Champagne flute and serve chilled.  WORD: Stunning WINE: Brut Champagne BEER: Crisp Light Ales FOODS: Champagne fare. 
Izumibashi "Umeshu Yamada Jyuro"
From Kanagawa Prefecture. Junmai Daiginjo Umeshu. SMV: +7 Acidity: 2.2
The nose on this plum sake that is made with  "Premium" sake is a vast collection of plum, brown sugar, honey, and applesauce aromas. It's been said that this plum sake is the Dom Pérignon of Umeshu sake, because it is made with Junmai Daiginjo sake, which is pretty special. This is connoisseur plum sake at its best, complex, sophisticated and very flavorful. It is not your overly sweet Umeshu, rather it is tart, brisk, and very confident with an elegant touch of sourness. Look for upfront plum followed by brown sugar, cooked apple, and honey flavors on a rich and round flow. A great gifting Umeshu, and also don't forget yourself if you want to experience high-end plum loveliness. WORD: Premium FOODS: Meat, game, smoked meats, cheese plates, smoked fish, pork chops.  
From Mie Prefecture. Tokubetsu Junmai. SMV: N/A Acidity: N/A
The nose on this famous sake in Japan is a cool collection of melon, berries, green apple, cut grasses, spring onion, pear, and bright fruit aromas.  A light, crisp, and bright jump into a new style of sake that plays with an elevated acidity field that jumps out of the glass. Pitched to wine drinkers, this sake is very expressive with lots of shibumi and acidity elements that drink lively, crisp, and spritzy. Look for layers of flavors such as Asian pear, peach, young melon, persimmon, green apple, and basically young fruit tones that pop on a tantalizing acidity play that smacks your palate in the face! This is a legendary sake for good and zesty reasons. It's hard to get in Japan so don't miss a brew that takes umami to new and vivid expressions. 
WORD:
 Famous 
WINE:
 Zesty Reds/Crisp Whites 
BEER:
 Crisp Ales 
FOODS:
 A Yakitori monster.