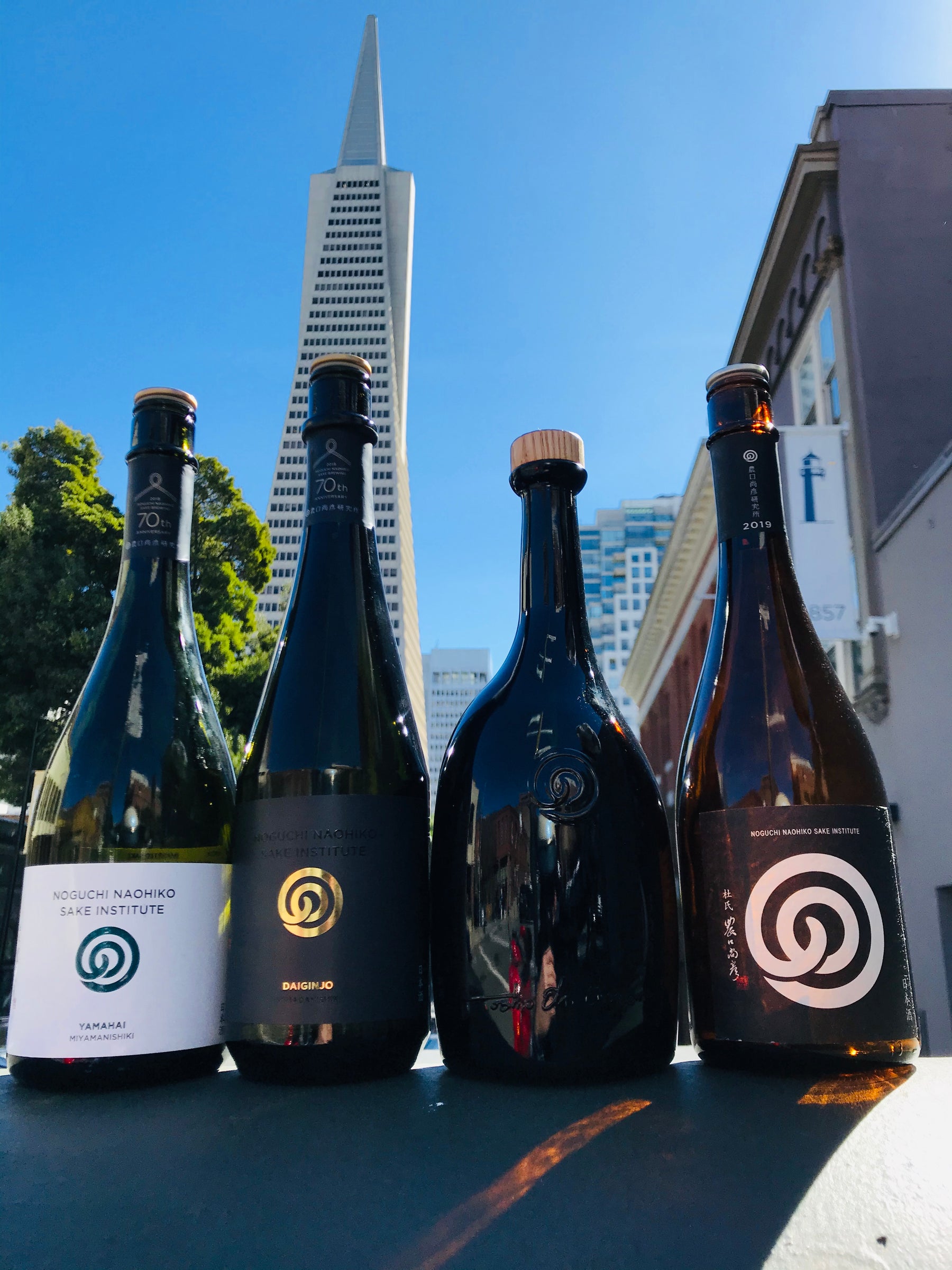 True Spotlight– The Legendary Noguchi Name & Sake With Gordon Heady
If you've been around the sake world long enough, some names always pop up to the forefront out of respect and honor for their perspectives about sake. Mr. Naohiko Noguchi is legendary in the sake landscape. He was born into a family of Toji and he is the third generation Master Brewer. He is 88 years old and is retired. Wait what? Okay, he has been in and out of retirement three times. He is brewing again, because sake is in his blood. In 2006, the Japanese Government awarded him a living legend award entitled "Modern Master Craftsman." The Emperor gave him the Yellow Medal of Honor for Industriousness in 2008, and his nickname just so happens to be the God of Sake. Oddly, and even cooler he rarely drinks alcohol.
The "Sake God" has won 27 Gold Medals at the Japanese National Sake Appraisals, 12 in a row. He led the "Ginjo-boom" and later was a large part of the revival of the Yamahai style of brewing. He has worked at various breweries, and his fingerprint is on a very large portion of the modern sake movement. Oh and he happened to invent my(and Mei's) favorite sake when he was the toji at the Kikuhime Sake Brewery. Where he made the world famous Kikuhime Kuruihime and BY Daiginjo (a sake that I once said I would be embalmed in when I die.)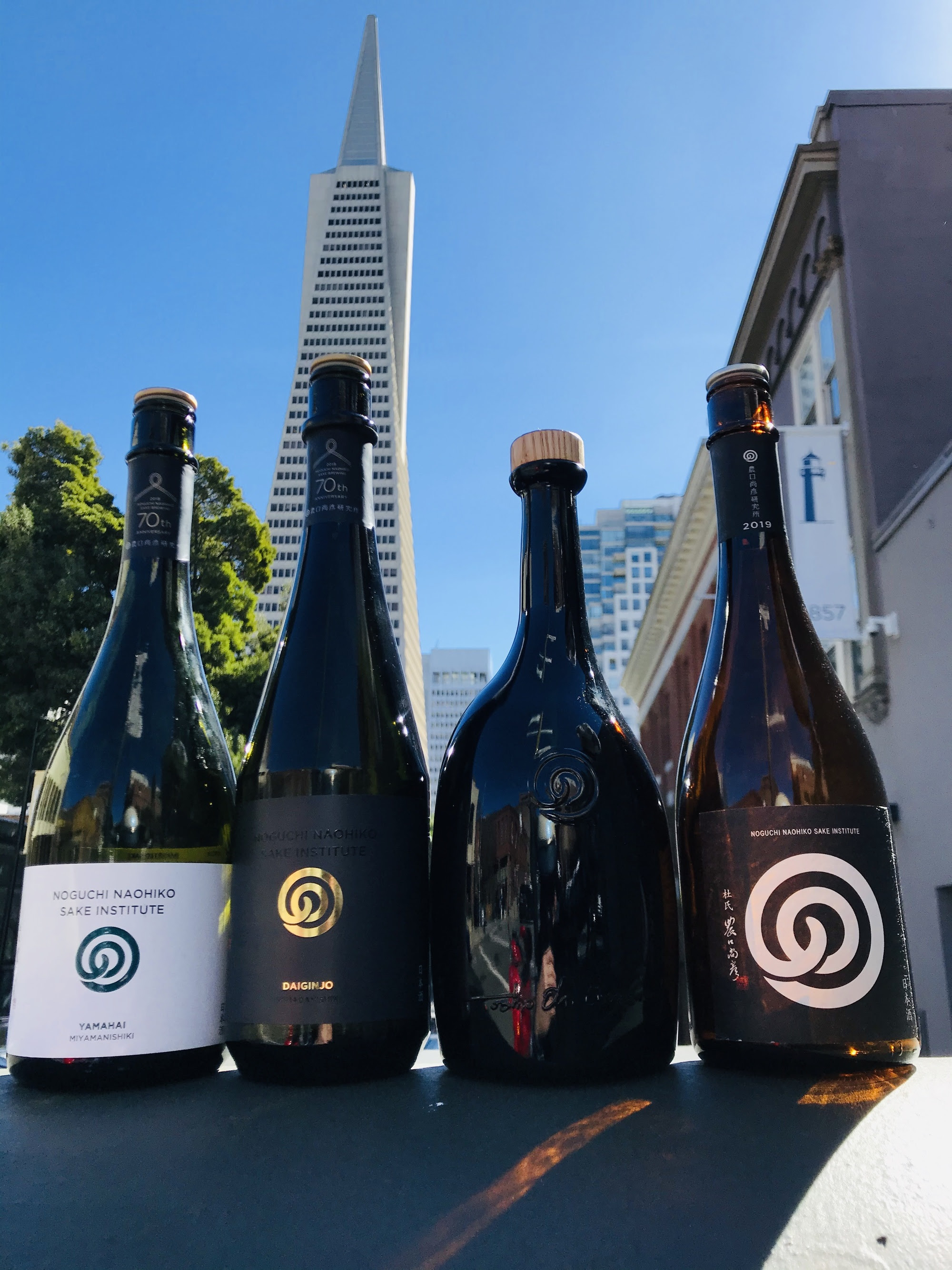 In 2017, the legend opened his own establishment in Komatsu City, Ishikawa Prefecture called the Noguchi Naohiko Sake Institute that was created to help, "Research the craftsmanship, spirit, and way of life of Naohiko Noguchi in sake brewing and passing it onto the next generation."
True Sake is the first retailer to sell 4 of his stellar efforts, and the reviews for the brews are written below. But first, I have to admit that I have never had the honor or privilege of meeting this man. And so to get a better view of this man, I reached out to a sake friend living in Japan, who was lucky enough to work shoulder to shoulder with this legend at his brewery in Ishikawa Prefecture. So herewith is another sake legend, Gordon Heady to tell you the real deal with the God of Sake.  
"I spent 12 months working for Noguchi-toji. It was the highlight of my
career, if not my life, and I am grateful that True Sake has given me
this platform to share something about this great man, the brewery,
and our sakes.

Please follow me on Twitter @GordonHeady and share with me your
thoughts about our sakes. I am producing Zoom seminars featuring these
fine sakes and more, including one on March 12th:
https://www.sakeschoolofamerica.com/news/brewery-spotlight-noguchi-naohiko-sake-institute-2021/
I have been passionate about sake for 30 years. In 1998, I was invited
to be one of the founding shareholders at SakeOne and was proud to be
the first Shareholder of the Year. After Hakutsuru acquired my stock,
I came to Japan on vacation and got a job working as a "kurabito", or
production sake worker. This took me to Fukuoka, Gifu, and then
finally Ishikawa where I was blessed to work under Noguchi-toji for
one year, until health problems forced my early retirement.

Noguchi-toji is in the ninth decade of his career, which started in
1949. The son and grandson of tojis, Noguchi is known as one of the
Four Guardians of Heaven according to his guild. He is called by some
"The God of Sake" for his accomplishments, some of which can be
quantified, such as winning 27 gold medals at the National New Sake
Competition -- despite not submitting sakes for several years of the
competition, this is likely among the highest totals since this
competition started over a 100 years ago. 
Yet there are some things which aren't empirical like a Gold Prize
which give him significance, such as the quality of him as a person.
He is kind, down-to-earth, warm and friendly to people from all walks
of life. He carries himself not as an aloof leader, but as an ordinary
man.

When he works, however, he is focused like I have never seen a person
focused on the task at hand. Working around the clock, for months and
months without a break, is an example of such a commitment to sake.
When he is at rest from having to brew every day, either on break from
Spring to Autumn, his focus turns to customers. Instead of making sake
at his whim, he pays attention to his customers and makes the sake
they enjoy.

I often think of the hours I spent with him around the brewery or at
meal time. Waking up every 90 minutes at night to monitor and prepare
the koji in a room that often peaks at 124 degrees Fahrenheit, for
several hours a day is tough, grueling work. I went from 210 lbs to
158 in six months. At break, we enjoyed the company of our team. At
night, after dinner, I slept well. There was a 3 meter snow drift that
winter and as a result the heater in our dormitory rooms failed. There
was no heat, but it did not interfere with my sleep. Brewery workers
are fed by three meals a day and we are treated quite well, respected
for the hard work we do. The brewery itself is gorgeous, and
completely state of the art. To launch operations from the beginning
in 2017 was thrilling.
To work with a great master, with unparalleled success, in any field
can be, well, intimidating. But his equanimity; his commitment to his
occupation, his pursuit of excellence, his innovation in brewing and
promotion... it can all be a little overwhelming to grasp. But he is
kind, fair, and a warm person; especially to his team.

Now, at 88, he is at the top of his game. You can taste it in his
sakes. He is passing on what he has learned from his experience, from
his education, to the next generation of brewers. I was one of them. I
will never forget him, nor his example.

I have some tasting notes to share.
MIYAMANISHIKI:

 

touch of anise, grassy notes. At first I taste
something approaching creme brulee, then it evolves into something
almost vegetal. Like most of our sakes, even though I made them, they
are elusive to describe. At finish zesty.

DAIGINJO:

 

Bright, juicy notes with refreshing acidity.. Think tropical
fruits such as papaya, lychee, and touch of pineapple. Pleasing lingering
aftertaste, gently sour and fresh.

LIMITED EDITION:

 

Ambrosia! Instead of blending different batches, this
sake represents the single best batch as hand-chosen by the toji
himself. It features fresh and sweet scents of fruit, flower, herbs
such as lychee, violet and mint. Packaged in a stylish asymmetrical
bottle designed by Mr. Toshio Ohi, one of the most
prominent artists of Ishikawa Prefecture. Only 5,500 bottles are to be released.

HONJOZO:

 

My everyday sake. Of these four sakes at True Sake, the only
one I did not personally make for this release to the USA. A balanced,
even sake that refreshes and surprises. Notes of sansho, sometimes
butterscotch when it approaches room temperature.

I feel that all of our sakes taste as if they belong in the same
family, or at least, were made at the same brewery. All of them strike
near the center of the bullseye."
Thank you Gordon! That's truly awesome. Obviously the passion was passed on to you as well, and the sake world is a better place with you in it! Thank you for your devotion to this amazing libation and thank you for letting your sake soul shine on.
I will include my reviews of the four Noguchi Products below:
Noguchi Naohiko Miyamanishiki Yamahai
From Ishikawa Prefecture. Yamahai Honjozo Muroka Nama Genshu. 
SMV: NA Acidity: NA
The nose on this unpasteurized and undiluted brew is an amazing array of citrus, seeds, straw, chestnuts, yogurt, and creamy aromas. So you think you know what makes sake tick? You call yourself a sake aficionado? Well, say hello to a brew made with Miyamanishiki that will rock your complexity world. Zesty, crisp, vivid, and lively this sake is definitely alive. It is sharp in nature but not cutting. That is because of the supreme balance of this brew that has tannin-like qualities with a dash of shibumi (astringency) and a mischievous acidity play. Interested yet? If so, get ready to taste crisp apple, young pear, melon candy, tomato water, lemon zest, and more grape flavors as the fluid warms in the glass. But wait there's more! The peek-a-boo sweetness has an amazing snowmelt mineral quality that hides sweet tea. Sweet grass flavors that ride the 19% alcohol flow. If you warm this sake, look for berries in cream flavors on a lively fluid. If you're ready for your Doctor-of-Sake license, this brew is a great launch pad to feel the difference between acidity, astringency, and alcohol actions. WORD: Professional WINE: Complex Reds/Deep Whites BEER: Crispy Ales FOODS: American Sushi, meats, game, smoked fare, fowl, huge pastas and international spice. $132/720ml
Noguchi Naohiko Junmai Daiginjo
From Ishikawa Prefecture. Junmai Daiginjo Muroka Nama Genshu. 
SMV: NA Acidity: NA
The nose on this high-end unpasteurized sake is an amazing collection of steamed rice, Tokyo Banana Cream, grape, Crème Brûlée, and orange aromas. Are you ready for an Opera in a glass? This one-of-a-kind Nama leaves Junmai Daiginjo sake in its rear view mirror. Smooth, fat, viscous, lush, tingly, and lively this is certainly 3-Dimensional sake. In a word, it has elegant brashness. Perhaps one of the most vast Junmai Daiginjo ever released to the public. Look for fig, pear, green apple, melon, white pepper, and citrus flavors with an umami kick on the first pass. Then wait for the sweet bread, pineapple, banana, and lavender hints to arrive as the fluid warms. This brew was built for a wine glass, because that's the only vessel capable of containing all of the amazing energy of this sake that speaks to those who crave liquid complexity. This is essentially the liquid equivalent of your favorite song being performed live. WORD: Virtuoso WINE: Huge Reds/Massive Whites BEER: Belgian Ales FOODS: Champagne fare, sushi, lobster, crab, cheese plates. $192
Noguchi Naohiko Limited Edition 01 "Vintage 2017"
From Ishikawa Prefecture. Limited Edition. SMV: NA Acidity: NA
When one of the most decorated sake makers in the history of sake comes out of retirement, you know the effort of this 87 year-old would be awesome. In fact; just like the brewer himself, this is a one-of-a-kind sake. The nose on this aged brew is a special collection of plum, cherry, fig, pear, apple, grains, and powder sugar aromas. In a word, this is a deliciously different sake that is dry, tight, crisp, and clean with a very quick finish. Sake enthusiasts rejoice, because "Naohiko 01" will fascinate you, and first time sake drinkers will be blown away. It's clean, but so compact that the fluid feels dryer, which is amazing with all of the feelings that glide through the palate. Look for an array of flavors such as raspberry, blackberry, blueberry, ripe apple, melon, blood orange, peach with a gentle mineral tail. The strength of this world-class brew is in the technique. Like many high-end sake, the ingredients are top of the line, but what separates this brew from the rest is the technique involved. You can literally taste the difference of this sake, and indeed it is different. Best consumed when opened and in a wine glass that perfectly balances the shibumi, acidity, and kire. Take note also of the impeccable bottle that looks like a grain of rice and sounds like the perfect pour each time. Priced for distinction, but appreciated for the love of sake making. WORD: One of a kind WINE: Complex dry reds/ Crisp dry mineral whites BEER: Tight Ales FOODS: Everything and Nothing $815/770ml
From Ishikawa Prefecture. Honjozo Muroka Nama Genshu
SMV: N/A Acidity: N/A
The nose on this unpasteurized Honjozo that is made using Gohyakumangoku milled to 60% is an amazing collection of melon, creamy fruit, grape, berry, honey, sweet nuts, butterscotch, and cream cheese aromas. If you drink sake long enough, eventually you find those brews that blow your socks off. Count this sake as one of your Bucket-List-brews that takes "flavorful" sake to the next frontier. Oh my gosh! Talk about controlled madness. Talk about controlled brashness. The entire world of flavors is in this brew, which could be crazy, but the balance of this Nama Honjozo is superb and this makes the whole thing dance perfectly. Look for hints of persimmon, melon, vanilla, citrus, cinnamon, crisp apples, grapes, pineapple, forest floor, pomegranate, dark chocolate filled with raspberry, dried fruit, and pear compote flavors. Wow! In a nutshell this sake is a flavor shifter along the lines of a shape shifter. It changes with every sip, but never let's you get lost. Who said Honjozo sake is boring? Not a chance here! WORD: Flavor Shifter WINE: Complex Reds/Deep Whites BEER: Stouts FOODS: The kitchen sink! $53/720ml