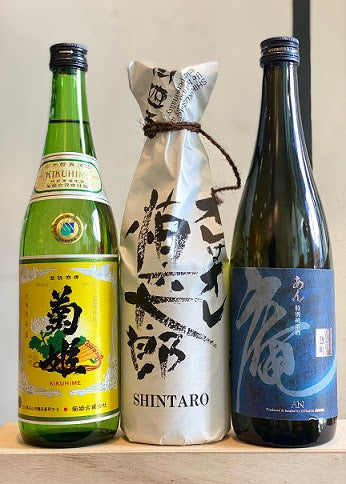 New Store Arrivals – Kikuhime "Kiku," Shintaro, Kumaya AN

From Ishikawa Prefecture. Futsushu. SMV: N/A Acidity: N/A
This review was conducted at the recommended room temperature. The nose on this one of a kind sake is a tantalizing collection of Shiitake, sweet nuts, chocolate, honey, leather, kelp, lemon peel, sweet rice, and earth tone aromas. Behold a true masterpiece of a brew that is categorized in the "cheap end" of sake but tastes like truly matured and pampered sake that you take more of a bite than a sip. Round, rich, full-bodied, velvety, plump, and extremely smooth. This sake coats the palate with a luscious and soft flow. Made using three different sake rice varietals including a Mochi rice, and aged this "Futsushu" is probably one of the finest "affordable" sake in Japan. Flavors find you, rather than you finding them. Wait for butter, cream, cocoa, nougat, sweet bread, caramel corn, breakfast cereal, maple syrup, honey roasted nuts, white chocolate, sweet rice flavors including so much Umami that is the perfect sake to taste this so-called 5th taste with labeling confidence. So balanced, rich, and smooth it's the finest "cheap sake" you will ever taste, and when warmed and heated look for cocoa, honey and a warm smiling feeling. WORD: Epic WINE: Deep Pinot Noir/Fat Reds BEER: Creamy Ales FOODS: Rich and full cuisines, pastas, meats, fowl, pork, smoked everything, olives, artichokes, soups and stews.
From Kochi Prefecture. Junmai. SMV: +5 Acidity: N/A
The nose on this perfect sake to bring to an Izakaya has a cool collection of oatmeal, cashew, couscous, wheat, hay, and steamed rice aromas. The notes wrote themselves: "A very slippery and wet/dry sake which is awesome! Dry water. Slick water. Dry slickness. Fun stuff, very drinkable." The strength of this brew rests in its unique dryness and stunning flavor field. Smooth, crisp, clean, dry, and compact there is a very appealing balanced smoothness and crispness that goes down so easily. Look for crisp apples, dried fruit tones, persimmon, kiwi, Asian pear, young peach, spring onion, vegetable salt, cucumber, with a hint of lemon water flavors. If you like it dry then this brew is for you, and if you don't really like dry sake this is a great sake to dry because this dry sake drinks differently and you may really enjoy it. Made in a Prefecture known for drinkable dry sake, this beautifully packaged and worded sake should be on your hit list. WORD: Dry WINE: Dry Reds/Crisp Whites BEER: Crisp Ales FOODS: Everything found in an Izakaya type pub from salty and savory to fried, grilled and greasy.
From Okayama Prefecture. Muroka Tokubetsu Junmai. SMV: +3 Acidity: 1.6
The nose on this sake that is made with the Omachi rice varietal is a very cool collection of butter, sunflower seeds, dry grasses, cedar, grape, cinnamon, mint and pine aromas. Rich, round, semi-chewy, and full-bodied. This Junmai drinks with a lot of confidence and balance, which plays well with a hint of astringency (Shibumi), some very unique flavors and a dry mineral and herbal finish. Look for dark chocolate, cinnamon cereal, grapefruit, blackberry, maple syrup, nectar, tangerine, mineral, and steamed rice flavors that float from rich, tart, dry, semi-sweet with a pleasant acidity that speaks to full-bodied Red Wine and Whiskey lovers. This is one of those power brews that says, "Hey I am different!" and that is why this beast is so fun. A large glass and coming into room temperature brings forth the very unique and best of this Omachi sake.
WORD:
Omachi
WINE:
Deep Reds/Zesty Whites
BEER:
Stouts
FOODS:
Big bold complex fare, steaks, chops, fowl, smoked duck and pheasant, and pasta dishes.