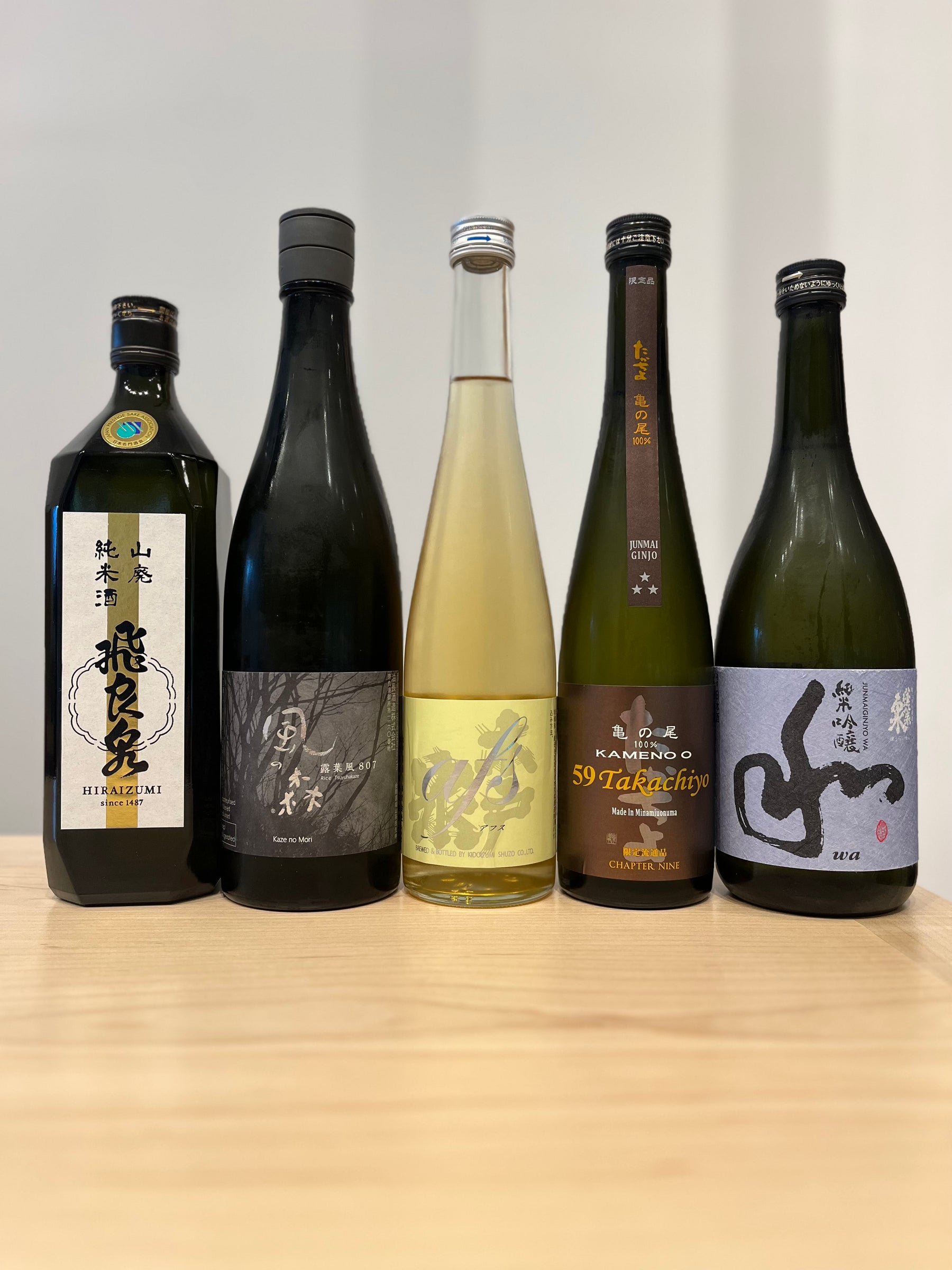 New Store Arrivals – Hiraizumi, Kaze no Mori, AFS, Takachiyo, Wa
Hiraizumi Yamahai "Splashing Spring Water"
From Akita Prefecture. Yamahai Tokubetsu Junmai. SMV: +2 Acidity: 1.9
The nose on this traditionally made sake from a brewery that was founded in 1487 is a slick collection of pralines and cream, lemon tea, crème brûlée, flan, apple, bay leaves and mint. Hiraizumi has been out of our inventory for a few years, but we are so glad that this brew is back! It's one of their flagship sakes, and every sake drinker should try it at some point. This is very much Akita sake that drinks dry and clean, but there is body and texture that flows across the palate that is round and firm. Bold and tight, there is a very nice acidity play that jumps with a smooth flavor field. Look for lemon custard, sourdough toast, dark chocolate, with creamy and buttery tones and crisp mineral finish. Old-style sake made by an old time brewery, and the drinker's pleasure is all new to you. Great for room temperature and warming. WORD: Tradition WINE: Big Dry Reds/Flinty Crisp Whites BEER: Crisp Tight Ales FOODS: Izakaya fare, Yakitori, fatty fish, fried and savory fare, game, and fowl.
Kaze No Mori "Black Label Wind of the Woods"
From Nara Prefecture. Junmai Muroka Nama Genshu. SMV: ±0 Acidity: 2.0
The nose on this special sake that uses a Nara rice varietal Tsuyuhakaze milled to 80% is a wicked collection of yeast, banana bread, berries, moss, ripe pear, lemon-lime, lychee, papaya, and earthy aromas. This is the sister brew to the ever-popular "Wind of the Woods", but it's complexity on steroids in sake terminology. There is so much in each sip! Is it too complex? Heck no, because it drinks so flavorful and fun. Zesty, crisp, clean, deep and impactful, "Black Label" drinks with deep roots. Look for apple, pear, strawberry, grape, tangerine, lime juice, powdered sugar, steamed rice, and a plump umami ending. The best part of the sip is the Calpico-like creamy soda and steamed rice combination that spritzes through the palate. This is a brew that drinks you as much as you drink it, and it does well at several temperatures and different sized vessels. WORD: Complex WINE: Thinking Reds/Zesty Whites BEER: Zesty Ales FOODS: Yakitori with salt, grilled fish, cheese board, bar snacks, and charcuterie.
Kidoizumi AFS "Quintessence"
From Chiba Prefecture. Yamahai Junmai Nama. SMV: -33 Acidity: +6.8
The nose on this sake made using a "Hot-Yamahai" technique that only this sake brewery uses is a vast collection of cedar, sea salt, maple syrup, waffle, orange, burnt butter, and cactus flower aromas. This sake is not made in the typical three addition method, and as a result, it doesn't drink like typical Yamahai sake. So what is it? AFS is almost like shubo or yeast starter sake. Concentrated, powerful, and loaded with ricey flavors on an abundant flow. This is liquid complexity and a great expression of historical sake. Chewy, viscous, wide, and velvety, it is sweetness personified, but not cloying. Look for a loaded flavor field filled with lemon, green apple, sea salt, sourdough, Greek lemon soup, cooked orange, mushroom, Grand Marnier liqueur, and a ton of umami expressions. Astoundingly, the finish is pretty quick for an SMV of -33. This is a very important small batch sake that is unlike all others, but it IS sake! It's a must-have sake for those pushing the sake frontiers. Great to have in a sake flight too. A three temperature brew for sure. This is "Ichidan Shikomi" sake and that's awesome. WORD: Rare WINE: Natural Wines BEER: Citrus Stouts FOODS: Foie Gras, International Spice, aged meats and game, Sauterne fare, cheese plates, and fruit plates.
Takachiyo 59 Kameno O "Chapter Nine"
From Niigata Prefecture.
Junmai Ginjo Muroka Nama.
SMV: N/A Acidity: N/A

The nose on this sake made by a cult fan-favorite brewery is a rich collection of butter, rum raisin, ripe mango, Maraschino cherry, butterscotch, dashi, oden, and cinnamon aromas. Say hello to a new-style brewery using an ancient rice varietal to make a super cool and complex sake that almost has a Cinnabon-like flavor that speaks to everybody. With a little spritz, off-dry, round, juicy, and plush, this brew is rich and smooth with an umami-filled finish. Technique and a cool rice varietal create flavors such as honey, cherry, cocoa, raisin, root beer, and herbal tones, that culminate in a Cinnabon complexity that is liquid magic. This is unpasteurized sake goodness that broadens your raw sake horizons.

 

WORD:

 

Cinnabon

 

WINE:

 

Cinnamon Reds/Spicy Whites

 

BEER:

 

Root beer

 

FOODS:

 

Sushi, shellfish, tacos, beer battered fish, cheese board.
Houraisen Wa
From Aichi Prefecture.
Junmai Ginjo.
SMV: N/A Acidity: N/A

The nose on this brew is a cool collection of cantaloupe, strawberry, grape, blueberry, apricot, bamboo, and minerals. This flavorful and drinkable sake is rich, round, slippery, lush, and a bold ride. What kind of taster are you? Some pick up rich sweet rice, cocoa, Whoppers chocolate malt balls, and nougat flavors. Others pick up richer fruit tones such as pear, cooked apple, honeydew, fig, cherry, berries and cream, and apricot flavors on a chewy flow. Some pick up both, because both flavor fields are full, fat, and fun with lots of glucose and a superb quick and dry finish. A white wine glass makes the lushness all the more quaffable.

 

WORD:

 

Lush

 

WINE:

 

Full-Bodied Reds/Chubby Whites

 

BEER:

 

Creamy Belgians

 

FOODS:

 

Rich and complex pastas, shellfish, fatty fish, Swedish meatballs, chicken fingers.