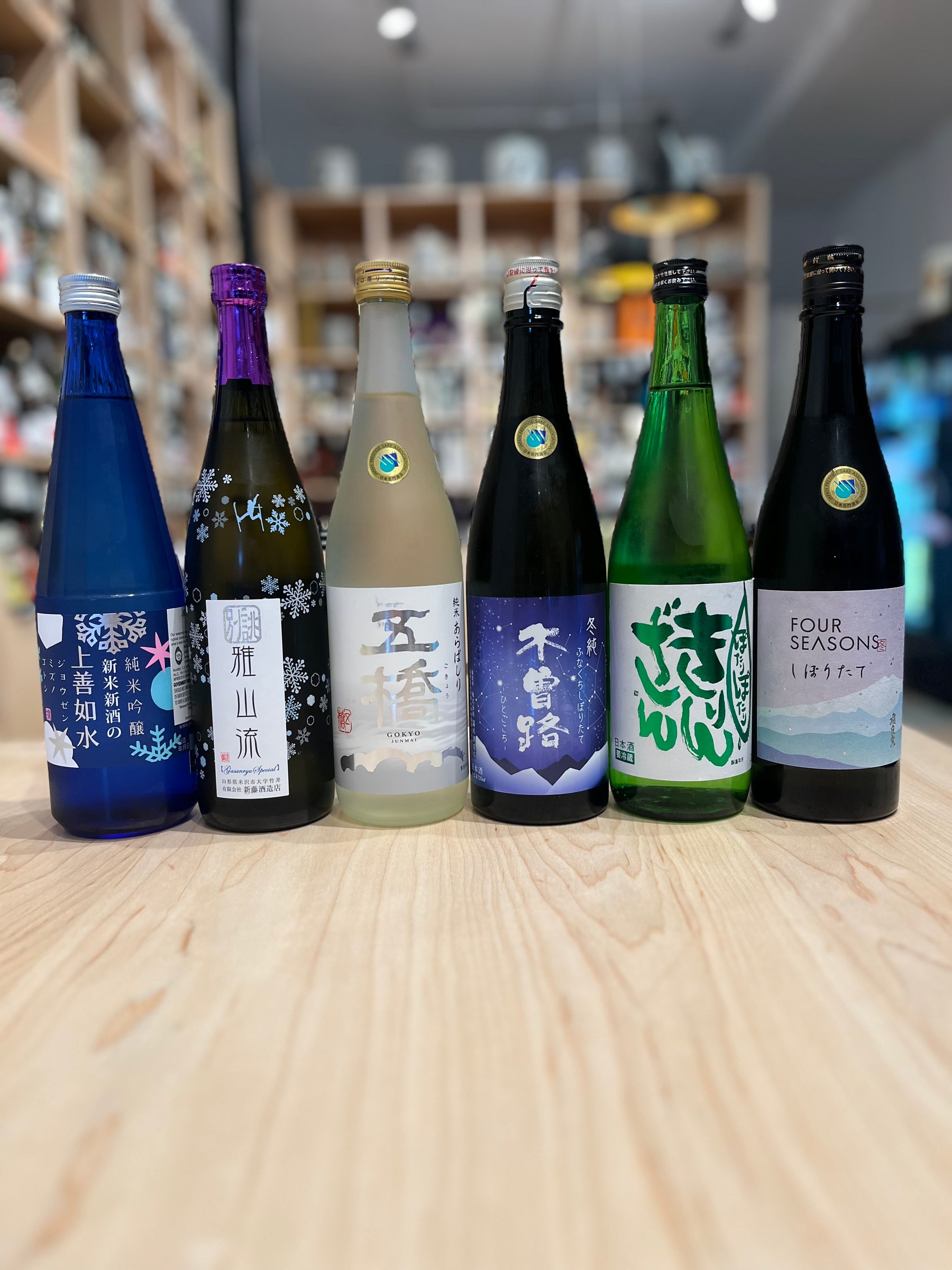 Seasonal Namas – Winter & Spring Nama Galore
Hey Hey Hey … Hey! It's some fun sake time, and we only have limited quantities of all of our Winter and Spring Namas. So act quickly, because when these expressive and lively brews are gone, they are gone. Our seasonally released brews are mostly Nama Nama, which means fully unpasteurized, but a few have been heated once and yet still drink so fresh and raw!
If you haven't experienced "Nama", or unpasteurized sake, then you should really try one or two of these sakes from some killer breweries. The Jozen is new to the store, and so is the Hiraizumi "Four Seasons." 
Jozen "Snow"
From Niigata Prefecture. 
Junmai Ginjo Nama.
 SMV: +4 Acidity: 1.5
The nose on this special seasonally-released unpasteurized sake is a wonderful collection of pear, white peach, candy, spring water, bubblegum, Gardenia, and ricey aromas. Made with Gohyakumangoku rice milled to 55% and using the lively 1801 yeast, this sake drinks the Jozen way, which is the Niigata way. Dry, clean, and flavorful with a nice dose of umami elements. Smooth, round, full-bodied, slick, fleshy, and juicy with a touch of acidity, this brew has several flavor faces. On one hand, there is mango, papaya, apple, mint, and persimmon flavors. On the other hand, look for rock sugar, herbal elements, milk, cream, parsnip and a mineral finish that has a well-integrated acidity. So you go from fruity and fun to ricey and umami in one sip and that's as awesome as the blue bottle it comes in. 
WORD:
Snow 
WINE:
Rich Reds/Mineral whites 
BEER:
Crisp Ales 
FOODS:
 Sushi, sashimi, crab legs, fresh seafood, poke, yakitori, and rich pasta.
Gasanryu Rokka "Crystal Flower"
From Yamagata Prefecture. Junmai Ginjo Muroka Namazume. SMV: +2 Acidity: 1.9
The nose on this seasonally released special sake is a fresh collection of berry, Asian pear, grape, rock sugar, spring water, mint, and watermelon aromas. Think fresh, think fun, think lively, and think very drinkable when tasting this Yamagata special. Slippery, light, slick, there is a tannin-like dryness, lots of shibumi, and a mineral finish for those who like crisp departures. Look for crisp pear, berry, apple, pineapple, white grape, lime, powdered sugar, and lots of mineral water flavors that slide through the palate with a watery goodness. WORD: Crystal WINE: Tannin Reds/Crisp Whites BEER: Crisp Ales FOODS: Sushi, sashimi, shellfish, oysters, grilled shrimp, ceviche, and caviar.
Gokyo Arabashiri 2023


From Yamaguchi Prefecture. Junmai Nama Arabashiri. SMV: +1 Acidity: 1.8
The nose on this seasonally released free-run cask strength unpasteurized sake is a kicking collection of pear, grape, cantaloupe, peach, Gardenia, coconut, and pound cake aromas. Light, spritzy, lively, juicy, bright, fresh, and crisp, this sake is like dipping your face in the sake tank and drinking it raw. Edgy, fruity, and expressive it's a great example of living-and-breathing freshly made sake that jumps in the glass. Look for playful flavors such as kiwi, tangerine, melon, grape, citrus, raspberry, and sweet rice flavors with a spicy and umami-filled finish. WORD: Lively WINE: Beaujolais/Frisky Whites BEER: Lively Ales FOODS: Sushi, sashimi, crab, oysters, shrimp, lobster, white fish, cheese plates, fruit plates.
Kisoji Funakuchi Shiboritate 2023
From Nagano Prefecture. Junmai Ginjo Nama Genshu. SMV: ±0 Acidity: 1.4 
The nose on this unpasteurized and undiluted (genshu) seasonally released sake is a fun collection of papaya, powdered sugar, cream, blueberry, grape, rock sugar, and mineral aromas. Yes! Fun, fresh, and flavorful this brew is smooth, light, and juicy. The fun comes in the combining of the crisp and creamy feelings with really lively flavors such as melon, apple, lychee, pineapple, pear juice, blueberry, grape, mango, and spring water. This is one of those sakes that drinks like you're biting a snowball that is fresh and minerally. It's rather controlled and balanced for all of the shiboritate action and those sublime flavors. Kisoji knocked this one out of the park.

 

WORD:

 

Balanced

 

WINE:

 

Fruity Reds/Crisp Whites

 

BEER:

 

Crisp Ales

 

FOODS:

 

Sushi, sashimi, lobster, shrimp, oysters, cheese plates, fruit plates, and Champagne fare.

Kirinzan Potari Potari 2023

From Niigata Prefecture.
Junmai Ginjo Nama Genshu.
SMV: N/A Acidity: N/A

The nose on this super limited seasonally released unpasteurized sake has a great collection of blueberry, lime, papaya, Sprite, Granny Smith apples, and spring onions aromas. This is a voluptuous and raw sake that speaks to those who like full-bodied flavors and feelings in a glass. Chewy, bright, viscous, round, and juicy, there is a flow on the palate that lets you know this sake is rice and water at its best. Look for pear, powdered sugar, pineapple, papaya, mint, cherry, rock sugar, and a hint of cucumber flavors that slide up and down on a bright and zesty flow. A wine glass brings forth the tingle and width of this brew.

 

WORD:

 

Voluptuous

 

WINE:

 

Beaujolais/Fat Whites

 

BEER:

 

Plump Belgians

 

FOODS:

 

International spice, street foods with a kick, comfort food like burgers and pizza, Dim Sum, shellfish.
Hiraizumi Yamahai "Splashing Spring Water"
From Akita Prefecture.

 

Yamahai Tokubetsu Junmai.

 

SMV: +2 Acidity: 1.9
The nose on this traditionally made sake from a brewery that was founded in 1487 is a slick collection of pralines and cream, lemon tea, crème brûlée, flan, apple, bay leaves and mint. Hiraizumi has been out of our inventory for a few years, but we are so glad that this brew is back! It's one of their flagship sakes, and every sake drinker should try it at some point. This is very much Akita sake that drinks dry and clean, but there is body and texture that flows across the palate that is round and firm. Bold and tight, there is a very nice acidity play that jumps with a smooth flavor field. Look for lemon custard, sourdough toast, dark chocolate, with creamy and buttery tones and crisp mineral finish. Old-style sake made by an old time brewery, and the drinker's pleasure is all new to you. Great for room temperature and warming.

 

WORD:

 

Tradition

 

WINE:

 

Big Dry Reds/Flinty Crisp Whites

 

BEER:

 

Crisp Tight Ales

 

FOODS:

 

Izakaya fare, Yakitori, fatty fish, fried and savory fare, game, and fowl.