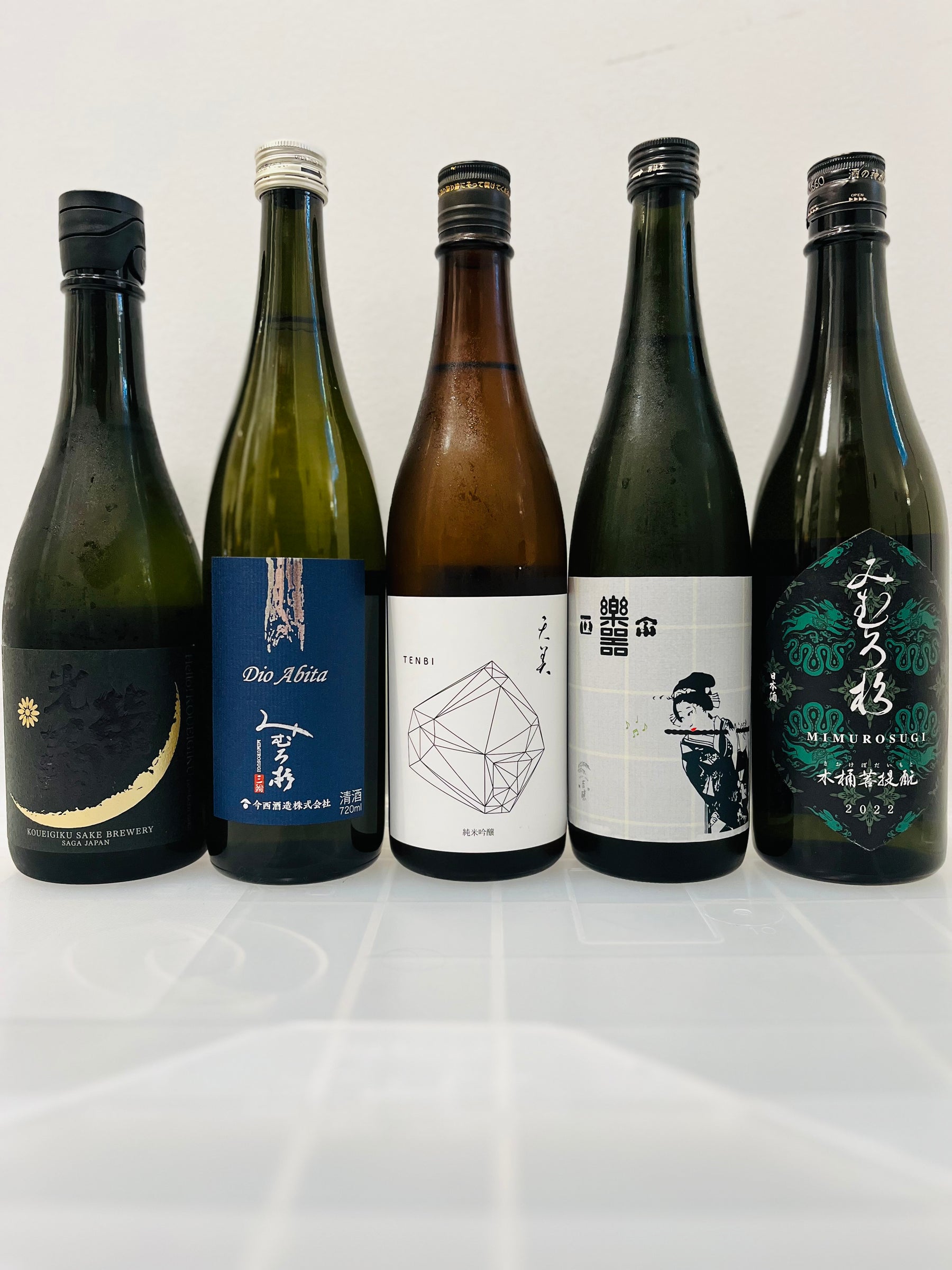 New Store Arrivals - Koueigiku, Mimurosugi, Tenbi, Gakki Masamune
Hello! Koueigiku Omachi
From Saga Prefecture. Muroka Nama Genshu. SMV: N/A Acidity: N/A
Say hello to another amazing True Sake Selection brew that is only available at True Sake. The nose on this unpasteurized sake from a brewery that specializes in "Newborn" sake is a vivid collection of Asian pear, watermelon, cantaloupe, simple syrup, lime, and mineral water aromas. Are you ready for the most quaffable nama in the States? Round, soft, light, silky, and fresh this raw sake drinks with elegant ease and is slightly spritzy with layers of juicy and refreshing flavors. Made with Omachi brewing rice. Look for a tantalizing flavor field filled with cherry, yellow kiwi, melon, strawberry grapefruit, lime candy, nectarine, persimmon, grape, and minerals on watery and silky flow that glides through the palate. As the fluid evolves in the glass look for tangerine, peach, cucumber, and taffy and subtle dry finish. All sake fans, especially Omachi lovers will dig this umami-filled living sake that drinks like a Daiginjo and has an impeccable gentle nature that is silky and fresh. WORD: Silky WINE: Juicy reds/Refreshing whites BEER: Fruity Ales FOODS: Sushi, sashimi, lobster, crab, shrimp, oysters, grilled chicken and fish, and hors d'oeuvre.

Mimurosugi "Dio Abita"
From Nara Prefecture. Junmai Ginjo. SMV: N/A Acidity: N/A
The nose on this superb Junmai Ginjo from Nara is a slick collection of wet stone, pear, blueberry, powder sugar, white strawberry, and steamed rice aromas. This special sake drinks like something master brewers "Toji" would really geek out on. It's smart, flavorful, amazingly well balanced nihonshu with a killer body and basically a rice and water gift! A little zesty, bright, light, tingly and close to effervescent with amazing acidity play and has an amazing finish. We would like to shake hands with the folks who made this sake. Look for snowmelt, blackberry, grape, plum, honeydew, blueberry icy, and other gentle stone fruit flavors on a balanced flow that is both refreshing and expressive. WORD: Balanced WINE: Light Reds/Flinty Whites BEER: Mineral Ales FOODS: Sushi, sashimi, steamed crab, grilled white fish, Yakitori, and cheese plates. 

Tenbi
From Yamaguchi Prefecture. Junmai Ginjo. SMV: N/A Acidity: N/A
The nose on this "New World" sake made by female Toji Miki Fujioka is a stellar collection of pineapple, kiwi, Muscat, watermelon, and mineral aromas. This well-built sake is a great and tasty example of a new style of sake making that emphasizes light and bright sake with a little effervescence that is zesty, fresh, and crisp. It is very active Ginjo sake that follows the brewery's philosophy that "A tiny difference makes a big difference," and the result is dry, crisp, and very flavorful sake that actually does better when it oxidizes a little. Look for tangerine, orange, pomelo, watermelon, papaya, sugar cane, sweet rice with an umami-filled PopRocks finish. This is the epitome of very constructed sake, and it is so popular in Japan that we are quite lucky to have it at True Sake. WORD: Crisp WINE: Zesty Reds/Crisp Whites BEER: Frisky Ales FOODS: Sushi, sashimi, oysters, shellfish, and Champagne fare. 

Gakki Masamune "Junjo"
From Fukushima Prefecture. Junmai. SMV: N/A Acidity: N/A
The nose on this extremely hard to get Junmai has a vivid collection of melon, Asian pear, grape, apricot, blueberry, and cantaloupe aromas. Are you ready to try a performance sake that is very "in the moment" in the sake world and has an ABV of 13%. This uber popular brew is made to tantalize the new world sake drinkers with a touch of effervescence, a hint of fruit tones, a lick of acidity, and a watery like feeling that is fresh and light. Oh and damn tasty too! Look for cantaloupe, apricot, persimmon, lime, Asian pear flavors on a clean, light, and crisp flow with a sneaky lemon zest tail. Take note of the very small bubbles that cling to the side of your wine glass, and enjoy this liquid work of art Fukushima-style chilled, and you better get two bottles. WORD: Light WINE: Gentle Reds/Light Whites BEER: Light Ales FOODS: Sushi, sashimi, crab, lobster, oysters with lemon, caviar, smoked fish, cheese plates. 

Mimurosugi "Kioke Bodaimoto"
From Nara Prefecture. Junmai Bodaimoto. SMV: N/A Acidity: N/A
The nose on this outstanding example of sake making is a deep and meaningful collection of sea foam, lime, green apple, mint, whipping cream, custard, yogurt, and banana bread aromas. This sake is made in a very traditional and old-school capacity but it drinks like one of the most modern and handcrafted sakes in Japan. How? How did those brewing geniuses do that? Smooth, soft, silky, layered, rich, round, fluffy, and totally elegant you will be baffled and rewarded by technique sake that pushes the envelope of feelings and flavors. There is so much and yet it is so clean. How? Look for a vast array of key lime pie, melon, mango, simple syrup, white chocolate, Mojito, green apple, Lemonheads, mint, honeydew, and graham cracker flavors on a super soft flow that has a touch of shibumi and a 14%ABV. WORD: World Class WINE: Vintage Reds/Beefy Whites BEER: Minerally Ales FOODS: The Kitchen Sink!