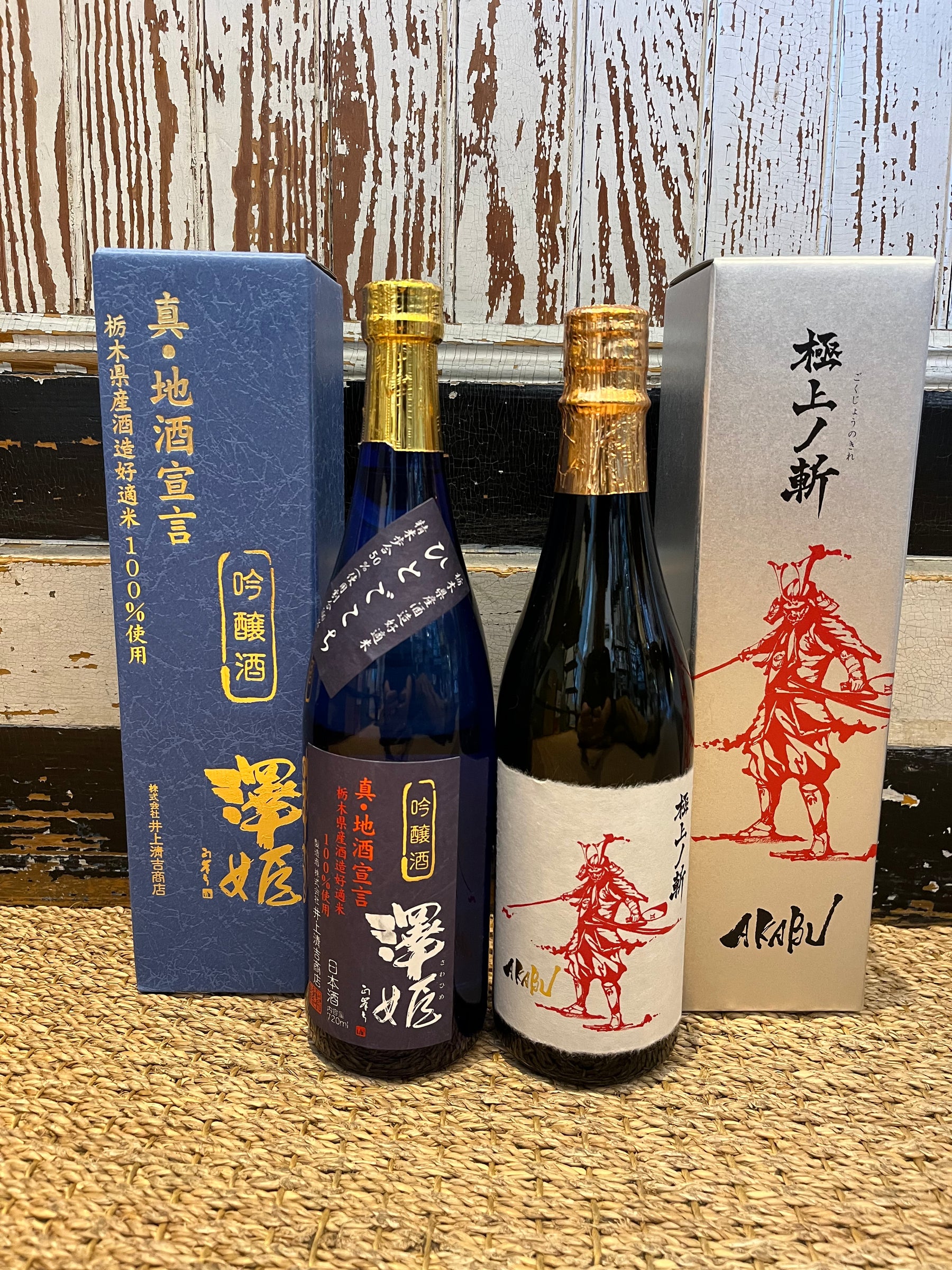 New Store Arrivals – Sawahime, Akabu, Heiwa Kid Ume, Tatsoriki, Kuheiji
Sawahime "2022 IWC Grand Champion"
From Tochigi Prefecture. Ginjo. SMV: +4.5 Acidity: N/A
The nose on this Grand Champion Ginjo has a gentle collection of steamed rice, oatmeal, cream, pear, young peach, and vanilla aromas. Most sake competitions feature sakes that aren't available to the public, not the International Wine Challenge. But, when a king is crowned everybody in Japan buys that specific brew out immediately so you don't get a chance to taste it. This Ginjo is the exact batch that won the Trophy and you get to taste it. Smooth, round, and layered they age this brew for a year before releasing it. They actually mill this brew to 50%, which is technically a Daiginjo, and it doesn't drink like prototypical Ginjo that is powerfully fruity and crisp. It drinks like the aging is a specific technique to take down the edges, and there is a ton of umami and complexity, which is cool. Look for cocoa, ripe pear, apple pie, rock sugar, caramel, nougat, and powder sugar flavors that flow to the edges of the fluid, which is also cool. We feel it drinks better chilled and kept chilled. This allows the sneaky crispness to show with a mineral and umami finish that is quite professional and yummy. WORD: Champion WINE: Complex Red/Velvety Whites BEER: Creamy Belgian Ales FOODS: Sushi, sashimi, crab, lobster, foie gras, smoked meats and game, pastas. $58/720ml
From Iwate Prefecture. Junmai Daiginjo. SMV: N/A Acidity: N/A
The nose on this stunning Ultra Daiginjo is an amazing collection of cantaloupe, strawberry, grape, cotton candy, pineapple, apple, pear, sugar cookie, and floral aromas. Are you ready for a professional's sake? This brew made with Yuinoka rice milled to 35% is fleshy with fruit tones and a quick dry finish that the brewery says is a "super dry finish." They also call this sake the "best of the best" from Akabu, and that is saying something. Smooth, ethereal, comfortable, and impeccably balanced.  Look for melon, pear, green apple, rock sugar, young mango, young strawberry, fig, persimmon, and apricot with loads of umami and a mineral phantom finish. The label is probably one of the coolest in sake (look in the swordsman's hand). If you ever wanted to gift sake this brew is the total package. WORD: Professional WINE: Deep Reds/Round Whites BEER: Creamy Ales FOODS: Champagne fare, passing foods, seafood everything, caviar, shellfish, sushi and sashimi. $160/720ml
Heiwa Shuzo Umeshu Tsuru Ume "Kanjuku"
From Wakayama Prefecture. Futsushu Umeshu. SMV: N/A Acidity: N/A
The nose on this plum sake made in Wakayama, which is the heart of plum country, is a fabulous collection of plum, honey, citrus, brown sugar, and rock candy aromas. Talk about a "drinkable" Ume Shu! Smooth, round, rich, soft, velvety, and plump the flow over the palate is incredible with so much feeling and flavor and yet so light and smooth. How did they do that? Arguably this plum sake drinks like the label, soft, smooth, and beautiful. Look for lots of plum tones, brown sugar, honey tea, and a hint of citrus flavors that glide across the palate. A little more on the sweet side than on the tart plum side makes this a fan favorite Ume shu that drinks great chilled and also goes well with an ice cube or two. WORD: Easy WINE: Dessert Wines BEER: Fruity Ales FOODS: Cheese and fruit plates, international spice, desserts. $34/720ml
From Hyogo Prefecture. Tokubetsu Junmai. SMV: -1.5 Acidity: 1.4
The nose on this target rich oyster pairing sake is a gentle collection of bamboo, Asian pear, balsa wood, and steamed rice aromas. Why pair a fruit juice (wine) with oysters when you are looking at a starch-based beverage with a ton of umami? Smooth, dry, light, and very clean, this special Junmai is a very seafood friendly sake that has hints of brine and a very elegant Umami field. Talk about a "ricey" brew. This "Oyster's Friend" is semi-crisp, slick, clean, and has a dry finish. Look for rice, wheat, rice cracker, cocoa, and toast flavors that open up as the fluid warms in the glass. If you like it dry this brew will speak to you and if you need a spot-on oyster pairing brew then get your shucker. WORD: Dry WINE: Earthy Reds/Mineral Whites BEER: Dry ales FOODS: Look at the label, Yakitori, grilled fish. $36/720ml
Kuheiji Kuno Honten "Kurodasho Tako"
From Hyogo Prefecture. Junmai Daiginjo. SMV: N/A Acidity: N/A
The nose on this exquisite aged sake is a unique collection of young fruit tones, peach, white pepper, lemon, rock candy, cucumber, mineral, and steamed rice aromas. Are you ready for the new frontiers of sake making? Are you ready to explore a sake made by sake brewers who play chess and not checkers? A 750ml bottle with a cork; all that's missing is the sulfites, which this does not have, and you'd swear this sake is almost wine-like? But is it? Full, rich, and zesty this brew drinks bright with a vivid crisp acidity that has body but also a nice tingle. There is weight to the fluid that is elevated with an acidity that walks through the palate, a nice umami play, and complexity that appeals to big white wine drinkers. Look for Muscat grape, pear, young peach, lychee, citrus, plum, mineral, and steamed rice flavors that drink fresh, controlled, and wine-like. This brew is for sake drinkers who know the realm of wine and want to taste the similarities in a complex and unique, one-of-a-kind way that shows the frontiers of sake making and how rice and water can go further. WORD: Crossover WINE: Complex Reds/Large Whites BEER: Crisp ales FOODS: Wine fare. $135/750ml