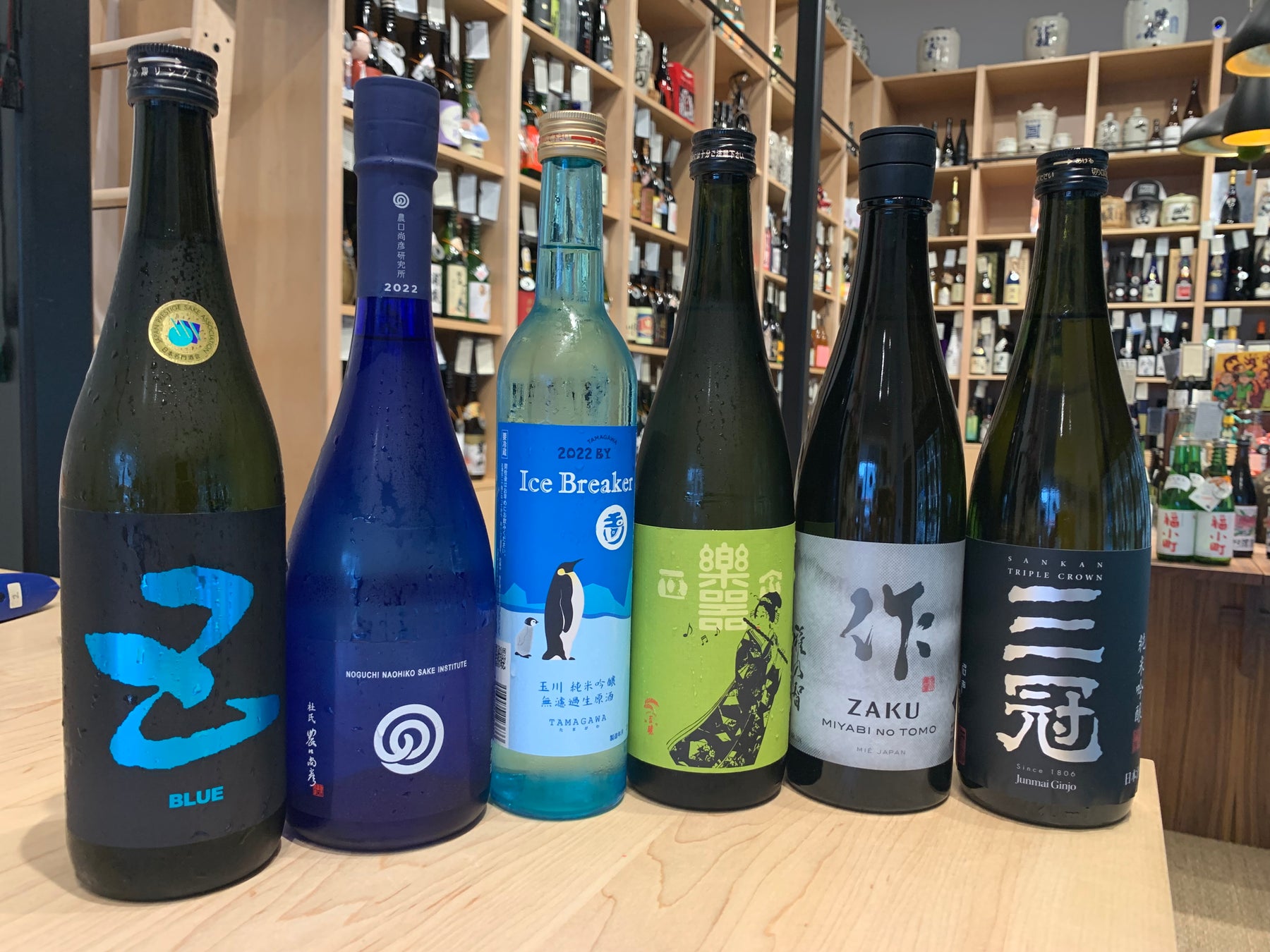 New Store Arrivals: Gokyo Five, Noguchi, Tamagawa, Gakki Masamune, Zaku, Sankan
Yamaguchi Prefecture. Junmai Ginjo Nama. SMV: +4.5 Acidity: 2.0
The nose on this "first-time-in-the-store" summer seasonally released 
unpasteurized brew is a fun collection of honey, cashews, persimmon, 
apple, apricot, asparagus, and steamed rice aromas. Gokyo Brewery is hot 
right now! This Yamaguchi

 

kura

 

is making some new-world brews that are very much in the sake news. Gokyo 5 is part of this new demand for throw
back style sake making resulting in new-world body and flavors. Fermented in 
a wood vat, this pole-rammed "Kimoto" sake is a tribute brew to slightly 
spritzy and lively sake that is fresh, slippery and dry. If you are 
looking for technique complexity in a raw sake, then behold a watery dry 
sake that has layers of flavors like sugar cookie, raisin, persimmon, 
honey nuts, sweet veggie, sunchoke, seltzer water, and minerals. Lots of 
acidity with a dry crisp finish, this brew drinks with lots of movement. 
Martini lovers take note.

 

WORD:

 

Dry

 

WINE:

 

Crisp Reds/High Acid Whites BEER:

 

Crisp Ales

 

FOODS:

 

Izakaya fare, salty, savory, greasy, fatty, and
pub fare.
Ishikawa Prefecture. Nama. SMV: N/A Acidity: N/A
The nose on this seasonally released summer unpasteurized brew is a wide 

savory collection of bread, graham cracker, cereal, lychee, burnt butter, bitter chocolate, and toasted rice aromas. Yes! Talk about an 

expressive yet extremely smooth summer nama. This is Noguchi at their 

best. Smooth, viscous, round, silky, soft, and very solid, this brew 

drinks like a glove. It's creamy and lush, with a wicked flavor field 

that shows cream, blueberry pie, smooth yogurt, coconut milk, tofu, 

sesame seeds, edamame, pear compote, mochi, and a boat load of umami 

expressions. Super soft and super flavorful, and of course unpasteurized. 

What more could you ask for? Oh, and that cool blue bottle... What a 

present for your sake family.

 

WORD:

 

Smooth

 

WINE:

 

Massive Reds/Fat Whites BEER:

 

Rich Ales

 

FOODS:

 

Everything!
Kyoto Prefecture.
Junmai Ginjo Muroka Nama Genshu.
SMV: N/A Acidity: N/A
The nose on this seasonally released unpasteurized sake is a cool collection of melon, pineapple, Muscat, honey, rock sugar, nougat, 

toffee, and white chocolate aromas. We love Ice Breaker! And True Sake is the only retail store outside of Japan to have the 1.8L bottles. This 

year's Breaker is soft, smooth, rich, round, velvety, fresh, and lush. Talk about a flavor bomb. Look for ripe melon, pear, milk chocolate, rock sugar, nougat, honeycomb, and cashews on a chewy ride that is 

loaded with umami goodness, plus a quick finish for all of those flavors. Master Brewer Philip Harper says that it gets so hot in Japan during the summer, that he recommends adding an ice cube to your glass. WORD: Smooth WINE: Soft Reds/Fat Whites BEER: Creamy Belgians FOODS: Anything! Great with tacos, burgers, pizza, fried chicken, and summer fare. 
Fukushima Prefecture. Honjozo. SMV: N/A Acidity: N/A
The nose on this stunning honjozo sake is a vast collection of orange creamsicle, blueberry, watermelon, Rice Krispie Treat™, peach, banana bread, and flan aromas. Brewed with Yume no Kaori rice milled to 66% this sake drinks smooth, rich, plump, and expansive, but has an uplifting tingle and spritz that lightens the overall drinking experience. If a sake could be refreshing, then this is as refreshing as sake can get! Look for a ton of rock sugar, watermelon, kiwi, peach, honey, Pixy Stix™, berries and cream, lemon-lime, strawberry candy, and minerals, with a quick cereal milk finish that has a sneaky umami departure. This sake is so good for the Honjozo category, and a terrific reminder that added alcohol sakes aren't the devil! WORD: Stunning WINE: Frisky reds/Uplifting whites BEER: Crisp Ales FOODS: Crab, lobster, sushi, sashimi, shrimp, fruit plates, oysters, and yakitori.
Mie Prefecture. Junmai Ginjo. SMV: N/A Acidity: N/A
The nose on this well-built brew is a slick collection of honeydew, pear, cherry candy, Muscat, sweet bread, lime, and mineral water aromas. This brewery is known for their rounded-bottom brewing tanks, 750ml bottles, and their regimented tasted schedule in the kura with their brewing team. This Ginjo fits in their lineup like a glove, and is smooth, silky, and clean with a quick umami finish. It's viscous and weighty, but drinks velvety and fleshy. Behold, a ton of flavors from cooked pears, mango, and candied apple to watermelon, herbs, Maraschino cherry, sweet peas, coconut water, and banana bread with an uptick acidity that appeals to wine drinkers. WORD: Silky WINE: Clean Reds/Slippery Whites BEER: Ales FOODS: Sushi, sashimi, shellfish, oysters, cheese plates, and white wine fare.
Okayama Prefecture. Junmai Ginjo. SMV: +5 Acidity: 1.55
The nose on this new to the US Ginjo is a tight collection of wheat, mineral, peach, and grapefruit aromas. Yes, guilty as charged! We are adding lots of Omachi brews to the store right now. Why? We just love the feelings and flavors that Omachi gives off, and this Triple Crown is a perfect example. In a word, this might be the most velvety smooth Omachi brew that we have ever tasted. Rich, round, slippery, silky, and supremely smooth, this sake drinks like a dream. A lush and rich-light™ dream that is a velvet slide of ancient rice and loaded with flavors such as honey, cooked pear, oatmeal, raisin, tangerine, honey tea, and breakfast fruit cereal tones. Chilled and/or at room temperature, this is as smooth as you can ever get your Omachi to drink. Cheers to that! WORD: Smooth WINE: Pinot Noir/ Velvety Whites BEER: Belgian Ales FOODS: Izakaya fare, salty, savory, grilled, fried, meats, fowl, and any fish.