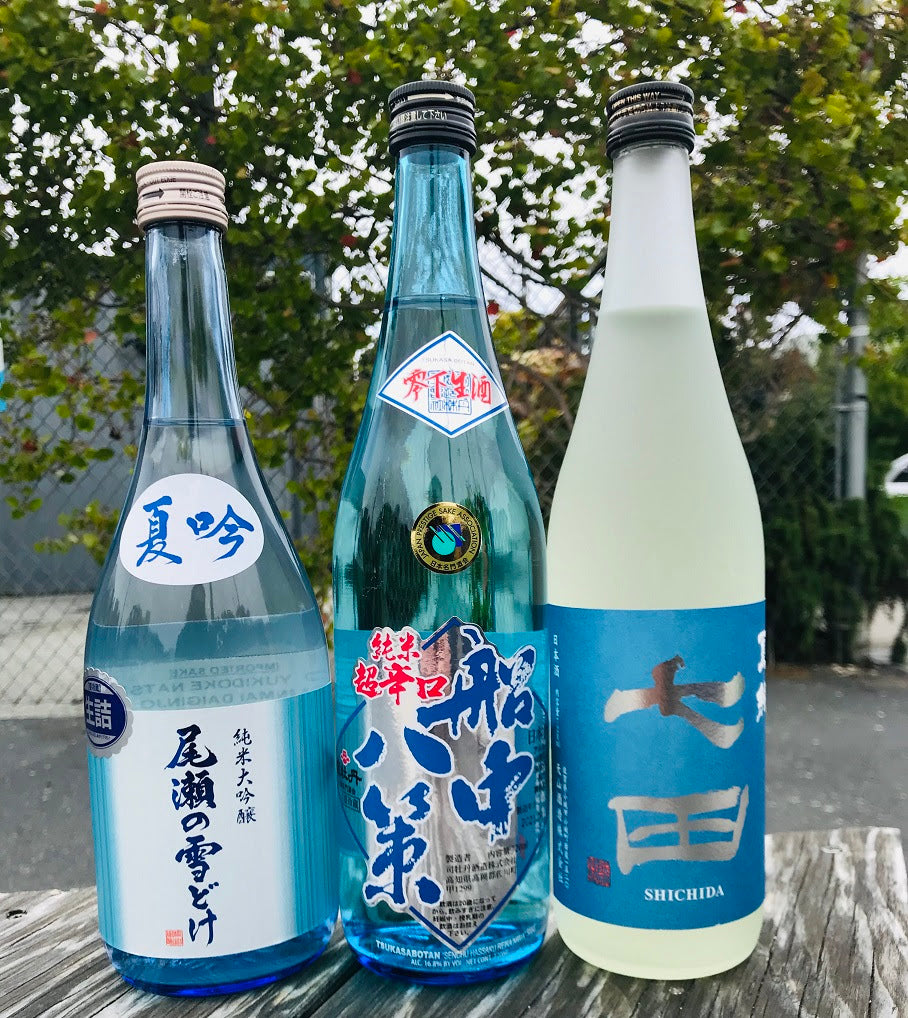 Seasonal Sake – The Largest Selection of Summer Nama Ever
Pandemic what?  We've told you about the problems with a backlog in the shipping container market, where importers cannot get a container from Point A to Point B effectively in a timely manner, but something is going on here and it looks pretty good for fans of Summer Seasonal sake. 
Currently, the store is inundated with summer brews. Wait what? Yes I said inundated, which means we are currently offering a plethora of beautiful and easy drinking sake that are totally either nama nama or single pasteurized to bring you stunning freshness in your glass. 
The latest flock of summer brews has landed and they are awaiting your exploration. 
Oze no Yukidoke "Natsugin" 2021
From Gunma Prefecture. Junmai Daiginjo Namazume. SMV: ±0 Acidity: N/A
This nose on this summer released seasonal sake has a gentle aroma filled with blueberry, cotton candy, bamboo, sweet rice, sugar water, and floral notes. Say hello to a single pasteurized Junmai Daiginjo that will make your summer cooler and fresher! Round, smooth, layered and light this brew is one of those "drinkable" sakes that are perfect for the pool or picnic. Made with Yamadanishiki milled to 48%, the body of this brew is fleshy, easy and loaded with tasty flavors. Look for apple, pear, blueberry, pomelo, grapefruit, mint, powder sugar, melon, and grape tones. There is a little peppery finish and the overall drinking experience is semi-rich, and semi-sweet that is very fresh in feeling and flavor. WORD: Fresh WINE: Plump reds/ Fleshy Whites BEER: Sweet Ales FOODS: Picnic, grilled salty and savory fare, light summery dishes.

Tsukasabotan Senchu Hassaku "Reika" 2021
From Kochi Prefecture. Junmai Nama. SMV: +8 Acidity: 1.6
The nose on this wonderful summer seasonal "blue" brew is a chill collection of pear, grape, strawberry, rice, and floral aromas. This is the sister sake to one of the most popular dry sake in the store, but
it's the unpasteurized version, which basically means it's a must to try side by side. It's not often that you get to compare two of the same brews. This dry Kochi-like sake is a must for those who like dry unpasteurized sake. Dry, crisp, tight, compact, and clean this cool cat is like liquid dryness. Huh? Dry water? Really? You bet, but don't forget to look for subtle flavors such as apple, pear, dried trail mix fruit, and young mango in a flinty fluid rush. There is a touch of astringency "shibumi" that appeals to tannin lovers with an overall excellent dry quality that starts and finishes almost exactly the same. WORD: Dry WINE: Dry Tannin Reds/Crisp Mineral Whites BEER: Crisp Ales FOOD: Salty and savory grilled things from meat and fish to veggies and shellfish.
Shichida Natsu Jun 2021
From Shiga Prefecture. Junmai Namazume. SMV: +2 Acidity: 1.4
The nose on this amazingly light Summer namazume is a slick collection of pear, melon, grape, blueberry, Asian pear, and snowfall aromas. Back for another awesome summer by the pool or on a picnic Nastu Jun is lighter and more elegant than ever before. With a lower alcohol content of 14% this easy to drink brew is gentle, silky, fresh, smooth, and almost dainty! Lots of flavors abound including hints of blueberry, apple, mint, Asian pear, powdered sugar, watermelon, and loads of snow melt mineral licks. If sake can be refreshing, then this brew wins the award, and it makes for a perfect summer party companion, light, bright and feeling right. WORD: Refreshing WINE: Gentle Reds/Flinty White BEER: Light Beer FOODS: Picnic fare, grilled fare, party fare, sushi, sashimi, shellfish, clean pastas.

Ohyama "Big Mountain" 2021
From Yamagata Prefecture. Tokubetsu Junmai Nama. SMV: +2 Acidity: 1.7
The nose on this Summer released seasonal unpasteurized sake is a playful collection of grape, pear, bubblegum, mineral water, and 7-Up aromas. Hey! It's Summer and this brew was made to drink light, bright, and fun for those poolside parties and picnics under the umbrellas. Soft, smooth, and silky this sake drinks semi-fruity, slick, and has a balance that brings a smile to your lips and palate. Look for hints of blueberry, grape, pear, and strawberry smoothie flavors that drink lively and fun. A great sake to think about the flavor of their brewing water in each sip. WORD: Fruity Fresh WINE: Fruity Reds/Bright Whites BEER: Fruity Ales FOODS: Sushi, sashimi, shellfish, picnic fare, grilled veggies, cheese plates, macaroni and chicken salad.
Denshin Natsu "Summer" 2021
From Fukui Prefecture. Junmai Daiginjo Nama. SMV: N/A Acidity: N/A
The nose on this seasonal Summer released nama is a splendid collection of cherry, apple, Asian pear, mango, bubblegum, and warm apple pie aromas. What's better than Summer fresh Junmai Daiginjo sake? Not much! And that's why Denshin Natsu is one of the most well-known and loved seasonal sake in the business. Round, smooth, vivid, lush, velvety, slippery, and slick this nama is all elegant smoothness without the jagged edges of brash unpasteurized sake. Look for an amazing array of flavors such as apple, cherry, melon, mango, Muscat grape, young banana, pear, and tropical fruit tones galore. This is a great brew that represents the best of fruity balanced sake that drinks smooth and silky with a sublime finish. An extremely food friendly summer sake that screams fresh and fun. WORD: Fruity WINE: Fruity Reds/Bright Whites BEER: Fruity Ales FOODS: International spice, fruit and cheese plates, shellfish, grilled fish and veggies.

Gokyo Summer Nama 2021
From Yamaguchi Prefecture. 
Junmai Nama.
 SMV: +1 Acidity: 1.8
The nose on this very limited seasonal Summer sake is a fresh collection of apple, cut grass, pear, and mild creamy aromas. Light, frisky, tingly, and effervescent this brew drinks crisp and brisk, and appeals to those who like sakes that tickle the palate. Wow! There are lots of movements in this sake with frisky umami licks that join flavors like Asian pear, honey toast, cinnamon, ginger, and white pepper. There is also another movement of green tones of bamboo, herbal, and crisp apple flavors that are tingly and dry. A very interesting sake that has a zesty ricey-ness with an overall crisp character. 
WORD:
 Crisp 
WINE:
 Sharp Reds/Dry Whites 
BEER:
 Crisp Ales 
FOODS:
 Salty and savory fare, grilled and meaty, fat fish, and smoked meats.