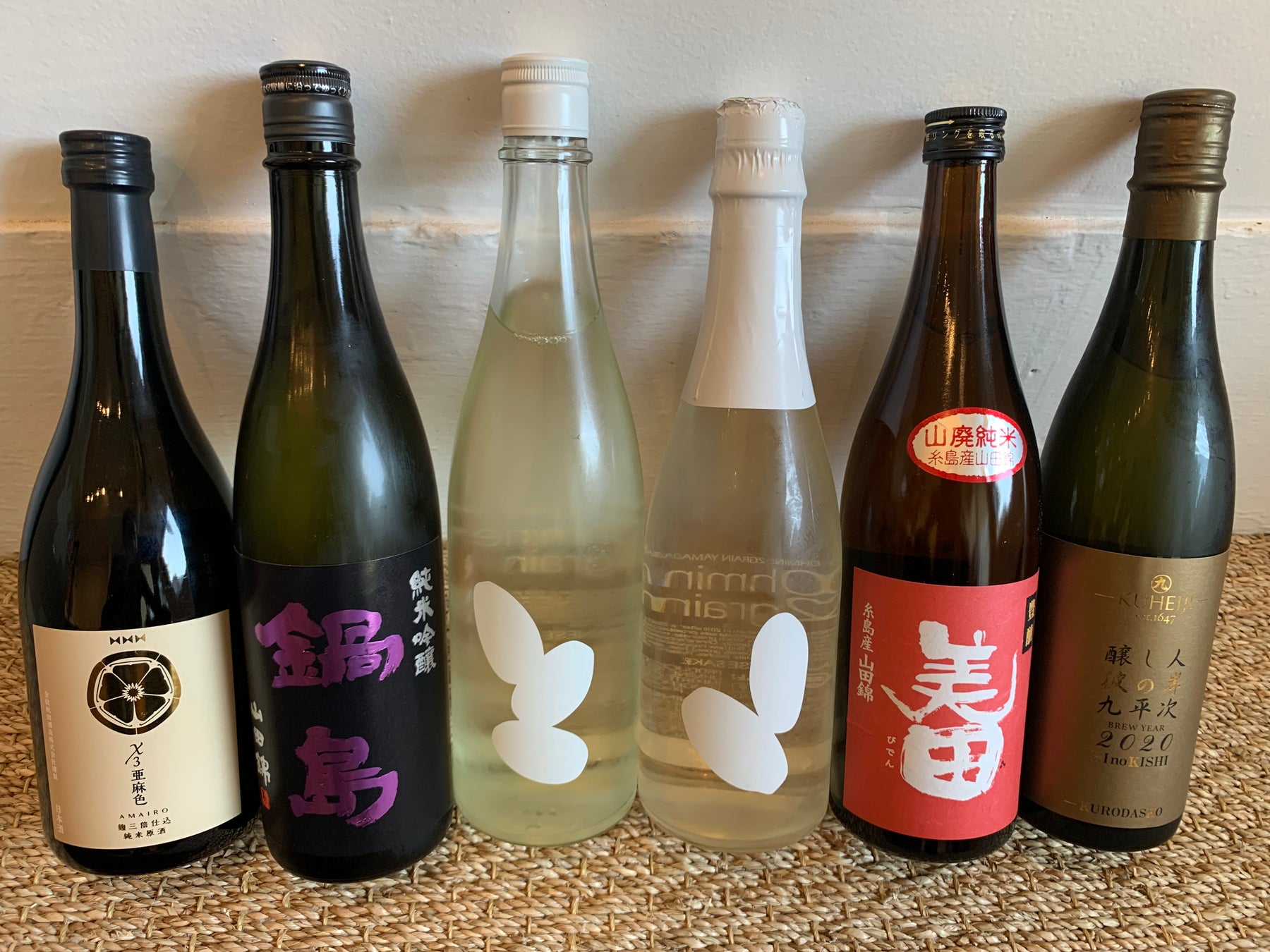 New Store Arrivals – Kinmon, Nabeshima, Ohmine, Hojo, Kuheiji

Kinmon Akita X3 Amairo
From Akita Prefecture. Aged Junmai Genshu. SMV: N/A Acidity: N/A
The nose on this triple koji sake is a stunning collection of sherry, rum raisin, toasted pecans, orange peel, maple syrup, sarsaparilla, candied nuts, and steamed rice aromas. This very unique sake has been aged for three years, so we are adding it to our "Koshu" collection, and that is exactly where it belongs. It drinks like an aged and mellowed sake with all of that delicious complexity, and a voluptuousness that is unequaled in more refined brews. Each sip is an explosion of different rich and full-bodied flavors like honey, crème brulee, raisin, toasted almond, button mushrooms, flan, root beer, and a bucket-load of umami that drinks velvety, dense, and lush. A stunning sake that should not be missed as it appeals to all sake drinkers, and is a food pairing superstar. Chilled is great, but coming into room temperature is where this brew likes to play. WORD: World Class WINE: Port/Sherry BEER: Sweet Belgians FOODS: Smoked fish and fowl, lobster, crab, umami-rich fare, pork chops, steaks, ankimo, and new California cuisines.

Nabeshima
From Saga Prefecture. Junmai Ginjo. SMV: N/A Acidity: N/A
The nose on this sake is a great collection of apple, rock sugar, papaya, green fig, peach, and spring flower aromas. Say hello to a tasty sake that drinks fruity, fresh, and fun. Made with Yamadanishiki rice – the best in the business – this brew is spritzy, tingly, fleshy, juicy, and bright on the palate. Look for peach, grape, powder sugar, green apple, honeydew, lemon grass, and lime flavors with a clean and quick finish. Wine drinkers will rejoice at the shibumi presence of this sake that drinks with astringency and plump acidity. And for those who cannot get unpasteurized sakes shipped to their homes, this sake drinks very much like a nama. Great chilled in a wine glass. WORD: Spritzy WINE: Fruity Reds/Crisp Whites BEER: Fruity Ales FOODS: Sushi counter, crab, oysters, white fish sashimi in ponzu.

Ohmine "3 Grain"
From Yamaguchi Prefecture. Junmai Daiginjo. SMV: N/A Acidity: N/A
The nose on this trendy Yamaguchi brew is a slick collection of powdered sugar, grape, kiwi, tangerine, butter, and mineral water aromas. Ohmine is a brewery with a belief system of not overthinking sake too much. They don't designate this sake as Junmai Daiginjo even though it's made with Yamadanishiki brewing rice milled to 50%. They don't give acidity or SMV as well, but would rather you focus your attention on this walk through the gentle side of sake. Clean, smooth, crisp, light, and layered, this sake is very elegant and nuanced and deserving of a wine glass. Look for Asian pear, Muscat, apple juice, watermelon, fig, and rock candy flavors on a fluid that is void of that booziness in some sakes. A very gentle and balanced brew that shows whispers of fruit tones and a whisper of umami in a bottle that disappears too quickly. WORD: Whisper WINE: Gentle Reds/Easy Whites BEER: Light Ales FOODS: Gentle fare, lightly grilled chicken and fish, tofu, white fish sashimi, steamed crab and clams. 



Ohmine "2 Grain" 
From Yamaguchi Prefecture. Ultra Junmai Daiginjo. SMV: N/A Acidity: N/A 
The nose on this very popular Yamaguchi sake is a brilliant collection of white peach, honeydew, Granny Smith apple, pear, lychee, and Gardenia aromas. This trendy brewery asks their customers to not overthink sake and to just simply enjoy the brew with little to no information. In theory we could call this an "ultra Daiginjo" made with Yamadanishiki brewing rice milled to 35%, but they want you to just think about a soft, round, smooth, slick, velvety drinking experience that is complex, but very easy as well. Look for melon, tangerine, Asian pear, sugar cane, nectarine, and a hint of mint flavors with an umami and mineral finish. This 2 Grain is as complex as you want to make it, but also as gentle and elegant as can be. The Champagne cork might fool you when opening, but it's a reminder that this sake pairs very well with Champagne fare. WORD: Soft WINE: Gentle Reds/Nuanced Whites BEER: Clean Ales FOODS: Champagne fare, sushi and sashimi, scallops, crab, lobster.

Hojo Biden "Pastoral Beauty"
From Fukuoka Prefecture. Yamahai Junmai. SMV: -1 Acidity: 1.6
The nose on this Yamahai sake made with Yamadanishiki is a wicked collection of butter, honey nuts, forest floor, grains, honey, and fig aromas. Talk about a soft and flavorful brew that has a ton of flavors but drinks light and smooth. Rich, round, velvety, layered, slick and almost watery this one of those feels good taste good brews that does well at three temperatures. Look for honey, burnt vanilla, flan, nougat, brown sugar, pecan, and cocoa flavors that warm into raisin and fig licks that take a lot of heat well. This is a food pairing buddy brew for sure. WORD: Silky WINE: Rich Reds/Honey whites BEER: Honey Ales FOODS: Rich cuisines, grilled mackerel, miso-based dishes, spicy hot pots, Internationals spice and street eats. 

Kuheiji "Hi No Kishi"
From Aichi Prefecture. Junmai Daiginjo. SMV: N/A Acidity: N/A
The nose on this supreme offering is a dazzling collection of lime, grape, granny smith, kiwi, bamboo, honeydew, marshmallow, mint, and orange blossom aromas. It's not often that a brewery throws out a sake and says this "is our best." And yet that is exactly what this sake represents from a brewery that is highly dedicated to their own domain grown rice. In fact they narrowed down their best rice paddy that grows Yamadanishiki, and then took only the best part of this one area to make their best efforts. It's as close to tasting terroir in sake that you can get. Crisp, light, soft, elegant, silky with a clean finish this sake develops within each sip. Look for melon, tangerine, crisp apple, white strawberry, young pear, lychee, pineapple, and whispers of umami in the finish. There is a tannin-like dryness and hanging shibumi that speaks to wine drinkers who like an elevated acidity play. Hi No Kishi begs for a white wine glass. WORD: Terroir WINE: Complex Reds/Acidic whites BEER: Crisp Ales FOODS: Sushi, sashimi, Champagne fare, shellfish, pates, and caviar.