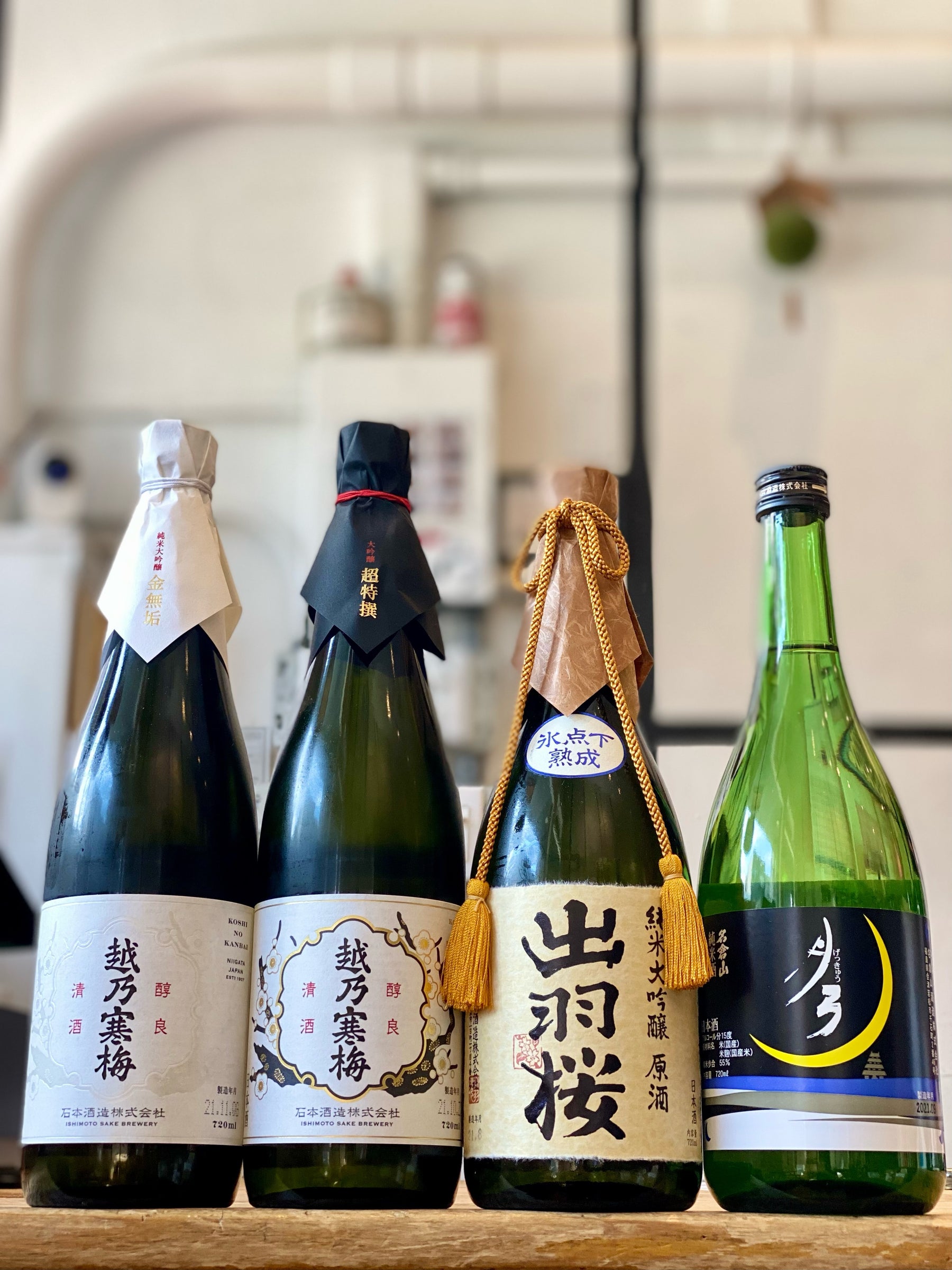 New Store Arrivals – Koshi no Kanbai X 2, Dewazakura, Nagurayama
Koshi no Kanbai Kinmuku "Milky Way"
From Niigata Prefecture. Junmai Daiginjo. SMV: +3 Acidity: 1.3
The nose on this newly repackaged classic Niigata sake is a very cool collection of melon, berry, cereal, cucumber, custard, sea foam, and creamy aromas. This is one of those peaceful high-end brews that defines the "phantom finish" style of sake making with lots of whispers and nuances. Smooth, round, soft, silky, fleshy, and elegant, this sake is like biting into a snowball or catching a falling snowflake on your tongue. Look for Asian pear, clover, snow melt, apple, mineral, tomato water, ricey flavors that drink very soft, very silky, and water-like. It's very fun to feel the gentle texture that is like water but with body and feeling. If you like sake that is gentle and subtle then Kinmuku is for you. WORD: Whisper WINE: Gentle reds/Flinty whites BEER: Crisp Light Beer FOODS: Sushi and sashimi, oysters, shellfish, tofu dishes, lightly steamed chicken and fish. $97/720ml


Koshi no Kanbai Chotokusen "Pinnacle of Perfection"
From Niigata Prefecture. Daiginjo. SMV: +6 Acidity: 1.1
The nose on this world class Daiginjo is a mild collection of plum, citrus, pear, apple, oatmeal, raisin, and peach aromas. Quite frankly this is a legendary work of art sake that highlights how exceptional sake is brewed and tastes regal as if you are sipping a life's effort. It's the top or pinnacle of sake making. Smooth, silky, soft, with a dry finish this brew slips across the palate like a princess at the ball. There is an excellent water play that is slippery but with body, and a touch of alcohol that speaks to older Japanese sake drinkers and judges. Look for powder sugar, cooked apples, pastry, confectionary vanilla, raisin cookie, powder sugar, rock candy, and a touch of mint flavors that are subtly sweet but drink more rich than sweet. It's newly repackaged with a larger bottle size and new label. When warmed it brings forth richness for the daring. A competition-style sake that always wins golds in your mouth. WORD: Performance WINE: Rich Reds/Vanilla Whites BEER: Belgian Ales FOODS: Sashimi, sushi, high-end beef, Carpaccio, olive oil dishes, shellfish, lobster, caviar, and it's own meal in a glass. $115/720ml


From Yamagata Prefecture. Junmai Daiginjo Genshu SMV: +4 Acidity: 1.3 
The nose on this Genshu sake has an amazing nose filled with cherry, papaya, sweet rice, tuberose flower, sweet pine, apricot, and candied apple aromas. First and foremost when you take a fruit forward sake and age it for one year at -5c you tend to round out the edges and brashness of a fruity sake. But wait there's more; since it's a Genshu it brings up the amplitude of fruitiness, so the result is a fruity sake that drinks round and smooth. This brew is built so well! It drinks fun and really awakens the senses, and it's only made of rice and water! Wow! Look for strawberry, mango, ripe pear, maraschino cherry, raspberry snow cone, fruit compote, and sweet rice flavors that drink very juicy and fruity. This could very well be the Versace of sake that is vivid and wild but drinks oh so styled. WORD: Verbose WINE: Fruity Reds/Fruity Whites BEER: Fruity Ales FOODS: Crab, lobster, American sushi, cheese and fruit plates, and Champagne fare. $109/720ml
Nagurayama Gekkyu "Crescent Moon"
From Fukushima Prefecture. Junmai. SMV: -1 Acidity: 1.1 
The nose on this Trophy winning sake is a mild collection of steamed rice, peaches, nectarine, kiwi, and berry aromas. What does the word unique mean to you? To us it means a sake that is different, but different in a great way! Not because it's a Junmai that is milled to 55%, not because it's a Fukushima Gold Medal winner, and not because it's a three temperature brew, but rather because as the brewers say it has a "wisp" of sweetness. And it's that wisp that makes this sake drink great and of course unique! Light, clean, crisp, fleshy, watery, and slick this is a gateway brew for dry sake drinkers to explore a light or semi-sweetness. Look for fruity flavors first like pear, apple, and white peach. Then as the fluid warms behold banana bread, powder sugar, and condensed milk flavors. Huh? Yes, it was a shift from fruity to rich sweet elements, but again it's not that sweet. Remember the wisp? A truly classic flavor and feeling brew that is so unique in the palate. WORD: Easy WINE: Gentle Reds/Subtle Whites BEER: Light Beer FOODS: Dashi ramen, oden, nabe, grilled chicken, sushi, and tofu.  $31/720ml