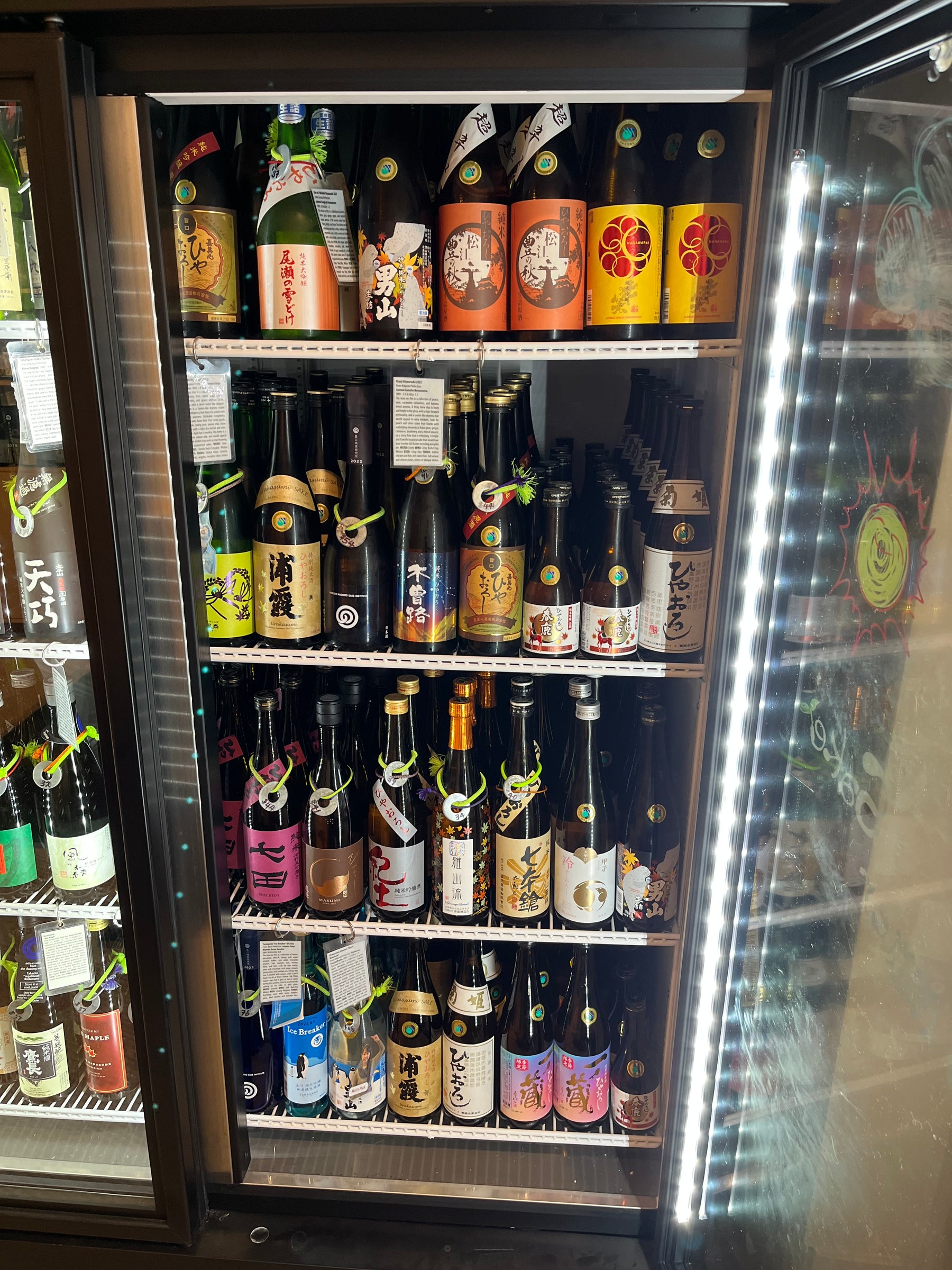 Sake Season – Fall Draft Sake Called "Hiyaoroshi" Beckons
It's raining Hiyaoroshi sake here at True Sake. Last year, we received a record number of these single-pasteurized seasonal "Fall Draft Sakes," and this year we will surely break that record. Why? Because our customers are smart! They know and ask for more of these labels to be in our fridge, so they can enjoy them in the autumn with deep, rich, and complex fall flavors that feature fatty fish, big fowl, and robust hearty soups, stews, and smoked fare. Yes, your Thanksgiving meal should revolve around a beautiful and robust Hiyaoroshi sake. 
Here are some of the second and third flights of Hiyaoroshi sakes to hit our shelves. And by all means, please call the store to talk to a Fall Draft sake specialist who can walk you right into a brew that is great for you. At this point we have 19 different Hiyaoroshi to choose from, and this is by far one of, if not, the LARGEST collection of Hiyaoroshi sakes inside and outside of Japan. 
Gasanryu Omachi Hiyaoroshi 2023 "Momiji"
From Yamagata Prefecture. Junmai Ginjo Namazume. SMV: ±0 Acidity: 1.7
The nose on this seasonally released Fall Draft sake is a subtle collection of cherry, butter, powdered sugar, white flowers, pine needle, blackberry, and sweet rice aromas. Smooth, light, and easy, this Hiyaoroshi drinks silky, crisp, and nicely controlled. Try to taste the Yamagata water in each sip as you look for brown sugar, sweet rice, honey, nougat, toasted almonds, and milky flavors. There are not many Omachi Hiyaoroshi brews out there, so this "Momiji" is a real treat not to be missed. WORD: Brown Sugar WINE: Light Reds/ Crisp Whites BEER: Milky Belgians FOODS: Grilled chicken, fall crab and lobster, honey baked ham, light meat turkey, and smoked white fish.

Shichida Aiyama 75 Hiyaoroshi 2023
From Saga Prefecture. Junmai Namazume. SMV: +1 Acidity: 1.6
The nose on this seasonally released Fall draft single pasteurized sake is classic collection of blackberry, grape, Sherry, melon, sweet tea, lavender, ripe mango, seaweed, and ice cream float aromas. Say hello to a fan favorite Fall brew that drinks semi-rich, semi-dry, medium-bodied, with lots of fresh tingly action that is bright and zesty. Made with Aiyama brewing rice milled to 75%, this sake has an ABV of 17% and lots of acidic movements that would appeal to wine drinkers. Look for apple, peach, fig, berry tart, grapefruit, nectarine, cherry, banana, and sweet cream flavors that zip through the palate with a fresh edginess. WORD: Lively WINE: Zesty Reds/Tingly Whites BEER: Crisp Ales FOODS: Sushi, sashimi, American sushi rolls, fried fish, and Izakaya fare.

Noguchi Hiyaoroshi 2023
From Ishikawa Prefecture. Undisclosed. SMV: N/A Acidity: N/A
The nose on this professional single pasteurized seasonally released fall draft sake is a kick-butt collection of raisin, tree bark, grape, peanut butter, cream, popcorn, and nutty aromas. Say hello to a "sneaky" fall draft brew made by a master  in Hiyaoroshi sake. How is it sneaky? Let's say there is sneaky sweetness that isn't sweet, a sneaky richness that isn't that rich,  and a sneaky umaminess that isn't totally umami. It's clever, it's unique, and it's all Noguchi, which means if you know – you know! Slippery, tingly, zesty, and frisky, it drinks lively but there is also lots of magic in this brew made with Gohyakumangoku brewing rice. Look for malted flavors like Whoppers™, peanut butter, cinnamon, candied ginger, sweet pepper, mint, holiday spice, butterscotch, burnt caramel, and toasted rice flavors that expand in a white wine glass. If you've never "Nogooched" before then this is your gateway chance! WORD: Sneaky WINE: Zesty Reds/Big Whites BEER: Xmas Ales FOODS: Almost anything from meat and stews to turkey Thanksgiving dinner.

Heiwa Shuzo KID Hiyaoroshi 
From Wakayama Prefecture. Junmai Ginjo Namazume. SMV: +1.5 Acidity: 1.7
The nose on this super popular single-pasteurized fall draft seasonally released brew is a cool collection of rock sugar, whipping cream, sweet potato, brown sugar, sweet buns, and banana bread aromas. The Kid Hiyaoroshi is always a walk on the fruity side for fall draft sake. That is their lane and they stay in it. But this season, there is a little sumpin sumpin that would appeal to savory fans too. Light and juicy, it drinks bright, silky, and almost water-like with medium body and a happy acidity. The first flavors to pop are stone fruits like peach and plum, with a little nectarine and kumquat, that pivot into a sweet chestnut and yogurt pretzel with a rock sugar finish. Still fruity, this brew is a wine drinker's Hiyaoroshi for all of that plump acidity and freshness. WORD: Fruity WINE: Zesty Reds/Lemony Whites BEER: Hefeweizen  FOODS: Sushi, sashimi, grilled white fish, oysters, shellfish, ponzu dishes, and lemon-based fare.

Toyonoaki Hiyaoroshi "Extra Dry"
From Shimane Prefecture. Junmai Namazume. SMV: +15 Acidity: 1.5
The nose on this single pasteurized seasonal Fall Draft sake is a unique collection of straw, cotton, crushed leaves, nougat, caramel, and steamed rice aromas. Say hello to the driest Hiyaoroshi sake that we have ever met! Medium-bodied, silky, tight, and extremely dry, this sake was built for food especially yakitori or anything off of your grill. Look for cracker, sourdough, dark chocolate, kale, crème brulée, and tons of rice tones, on a brisk flow that is laser like in focus and feeling. This is big "sake drinker's sake." WORD: Dry WINE: Tannin Reds/Crisp Whites BEER: Crisp Ales FOODS: Yakitori, grilled anything, mushrooms in a butter sauce,  meats.

Kinoene Hiyaoroshi "Ohkarakuchi"
From Chiba Prefecture. Junmai Namazume. SMV: +8.5 Acidity: 2.5
The nose on this new style single pasteurized seasonally released Fall draft sake is a bright collection of citrus, frosting, brown sugar, cocoa powder, butter, and rich leather aromas. Using Aramasa yeast, this Hiyaoroshi is getting a lot of press in Japan for being "New World" that is zesty, bright, and frisky, with a kicking acidity presence that is lively and light. With all the lightness and brightness, this brew has a very feel-good body with lots of cool flavors like grapefruit, lemon/lime, chocolate covered orange peel, candied ginger, sea salt, strawberry, and minerals. A very welcomed new Fall Draft sake to add to our lineup that would speak to wine drinkers and foodies. WORD: Bright WINE: Zesty Reds/Crisp Whites BEER: Zesty Ales FOODS: Pub fare, salty, savory, fried, comfort fare, shellfish, fatty fish with lots of oil.


Nanawarai Hiyaoroshi
From Nagano Prefecture. Junmai Ginjo Namazume. SMV: -6 Acidity: 1.5
The nose on this "first-time-to-the-store" single pasteurized Fall Draft sake is a plump collection of cotton candy, lily, blueberry, grapefruit, powdered sugar, and creamy aromas. Say hello to an old-school, round, soft, velvety, and super smooth brew that is viscous, gentle, slippery, and very relaxed. This is an easy Hiyaoroshi sake that drinks with a little plumpness and a gentle sweetness. Look for apple pie, strawberry, crème brulée, cooked fruit puree, fig, melon, and sweet rice flavors that roll through the palate. Described by the True Sake Cru as a "safe" fall draft sake that drinks gently and with lots of smooth flavors for those who like it cold-and-smooth™. WORD: Velvety WINE: Rich Reds/Smooth Whites BEER: Creamy Ales FOODS: Crab, lobster, shrimp, dishes with butter sauce, burgers, fries, and comfort izakaya fare including spicy sushi.



Kikuhime Hiyaoroshi
From Ishikawa Prefecture. Tokubetsu Junmai Namazume. SMV: -2 Acidity:
2.0
The nose on this champion single pasteurized seasonally released fall draft brew is a wicked collection of caramel, sunflower seeds, banana bread, honey, soy sauce, mochi, and candy corn aromas. Say hello to a world class fall draft sake that drinks about as well as a slightly aged brew can drink. Round, rich, medium bodied, slippery, smooth, and with a little bite, think robust sake that pairs well with fall flavors including that turkey dinner. Look for honey, sweet tea, crème brulée, raisin, lemon custard, sweet potato, fig jam, and burnt rice flavors that dance on an expansive and elegant body made for a wine glass. Chilled or coming into room temperature, this Hiyaoroshi is as professional as it gets. WORD: Professional WINE: Deep Reds/Complex Whites BEER: Creamy Belgians FOODS: Rich and complex fall fare with big meats, oily fish, stews, soups, chops, and the Turkey Bird.